DAYDREAMING THE ARCHIVE
An online showing of our work-in-process and working process
A group of post_migrants, fragmented by the pandemic and working conditions, weave together an affective cartography of the city of Frankfurt am Main, resignifying places through multimedia storytelling of dislocated memory archives and traveler's daydreaming. A glimpse into the working process and work-in-progress of this soon-to-première walking tour and soon-to-launch interactive website. 
Sonstige
SA 18.09.2021
18:00 — 20:00 Uhr
Online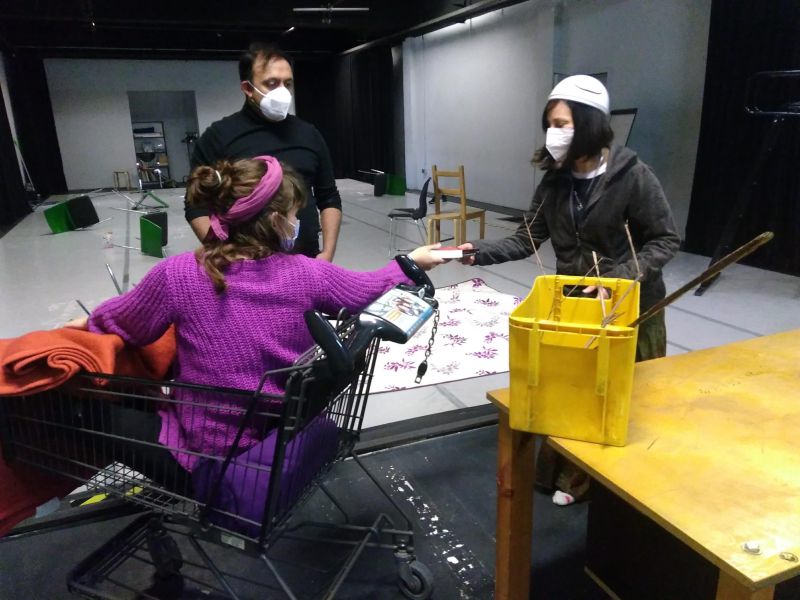 Score of the post-apocalyptic neighborhood at ID Frankfurt/ Pictured Bárbara Galego, Walter Castillo, Sol Crespo
This open online session will give you a glimpse into the working process and work-in-progress of Daydreaming the Archive. Daydreaming the Archive is, on one hand, a walking tour in Frankfurt am Main, guided by post_migrants from different professional and geographic backgrounds and to be premièred in October 2021. On the other hand, it's a soon-to-be-launched website (daydreamingthearchive.com) that serves as an extension of the tour, not only archiving documentation and allowing remote access of the tour to a wider audience but also providing the public a platform to actively participate in the re-writing of an affective cartography of the city.
Some of us are theatre makers and choreographers who met at the Institute for Applied Theatre Studies in Gießen. We also count among our group opera singers, an amateur photographer and gardener, an NGO worker, a mother and event manager, and a plastic bottler recycler. All of us are post_migrants.
In this online session we will talk about what an affective cartography means to us, which is at the heart of our approach to creating this tour: the city is more than numbers and a rational layout where people and cars move, it's a multiplicity of relations created when bodies meet and dislocated memories and imaginations of place intermingle. We will speak about being post_migrants and the impulse to become travelers in our own city. We will show fragments of the work through this online media and will share some of the scores that we performed to re-activate memory and imagination in different places of the city. We will also give an insight into the working conditions, which we call an (im)possible collaboration as a fragmented group in times of pandemic making work together. Finally, we will also be happy to exchange live and answer questions from the audience.
Project initiator: Diana De Fex
Co-choreographers-facilitators: Olga Popova, Felipe Dos Santos, Bárbara Galego, Diana De Fex
Participants co-creators: Dajana Kubat, Debo Seabra, Sol Crespo, Khabeer Singh, Walter Castillo, bergie
Dramaturgy research phase: Alice Nogueira
Dramaturgy production phase: Maria Tsitroudi
Mediation: Robert Klement
A co-production with Studio Naxos supported by Stepping Out Neustart Kultur, Frankfurt Kulturamt, Amt für multikulturelle Angelegenheiten (AMKA), Hessische Theaterakademie (HTA), Giessener Hochschulgesellschaft (GHG) and ID_Tanzhaus FRM.
The Open Studios | Digital Showing of "Daydreaming the Archive" by Diana De Fex and Team will take place as part of the ID_Tanzhaus Frankfurt Rhine-Main's 2021 Residency program. The ID_Tanzhaus FRM is an initiative of ID_Frankfurt - Independent Dance and Performance e.V.