PERFECTIONISM-DETOX: EIN TANZ MIT STIMMEN AUS DEM SÜDEN
Online-Premiere
Eine 6-teilige Webserie, die sich mit zentralen Fragen der Dekolonialität, der Aneignung, der Befreiung und der Tanzperformance befasst. Die erste Folge wird am 24. November ausgestrahlt, weitere Episoden werden bis zum 29. Dezember wöchentlich angekündigt. Sprachen: Englisch/Spanisch
Tanz/Performance
Vimeo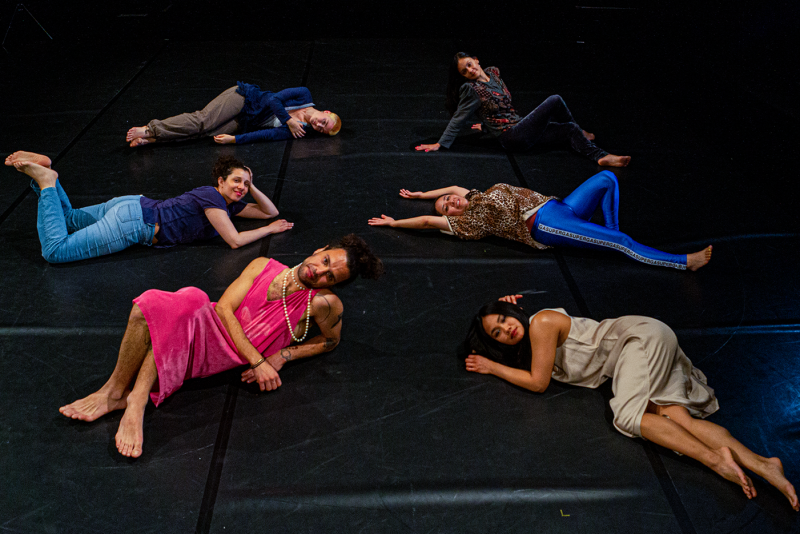 Photography of the team by Jasmin Darvish
Perfectionism Detox is an artistic research project by a collective comprised of Diana De Fex, Luz Zenaida Hualpa García, Abril Lukac, An*dre Neely, Suzette Sagisi and Amelia Uzategui Bonilla. They came together between 2020-21 to observe how perfectionism shows up in and out of their lives as migrant performing artists in Germany with roots in the Global South.
Through conversation and artistic practice, they sought to articulate liberation routes from colonial traps. Perfectionism, a trait of white supremacy culture, serves as an oftentimes invisible backdrop for "professionalism" in dance training, rehearsals, and in the conceptualization of the ideal body. Through fear of exclusion, it fabricates a "right way" to speak, act, and express oneself. Expressions and bodies who do not conform to these standards are pushed to the margins.
In a six-episode web series, the researching artists take turns asking each other questions and responding through performance, sharing intimate insights, results of a life engaged with both adaptation and innovation within diverse cultural codes.
Text in Spanish is translated into English via subtitles.
Video/Editing: Mariana Brzostowski
Lighting: Carina Premer
Project Management Consultation: Carmen Salinas
Mediation: Ioulia Kokkokiou
Funded by the Frankfurt Kulturamt, HMWK, Hessisches Theaterakademie's Postgraduate Grant, and with residencies at Ponderosa and the Frankfurt Lab.