ID_TANZHAUS FRM OPEN STUDIO: »PROJECTIVE BODIES«
An experimental VR based performance
Projective Bodies is an experimental VR based performance directed by Saakib Sait. It is based on the ritualistic, everyday actions within the domestic interior. The increasing virtuality of our homes as a result of the pandemic has resulted in our private spaces turned public. Taking this as a point of departure, Projective Bodies questions notions of body, space, privacy, movement, rituals, memory and navigation.
Performance
SO 17.10.2021
12:00 — 19:00 Uhr
October 17th - 12:00-19:00
We invite you to experience and give personal feedback to Saakib's VR set-up live by visiting the Z studio on Sunday, 17. October. Available timeslots are available between 12-19hrs.
To abide by Covid-19 safety measures, only one household of up to 3 people are allowed at a time. Please be aware that mask-wearing indoors at Z is mandatory, and you will be required to follow Z's hygiene rules.
*Registration in advance is mandatory:
Please write an email detailing your preferred timeframe to sait.saakib@gmail.com
Slots will be 30 min. long. Open Studios is a free event.*
October 24th - 20:00
Online presentation of film documentation and results of Open Studio and workshop with dancers: Raha Dehghani, Evie Paoros, Eri Funahashi Geen, and Joanna Gruberska.
Register online using the link.
Anmeldung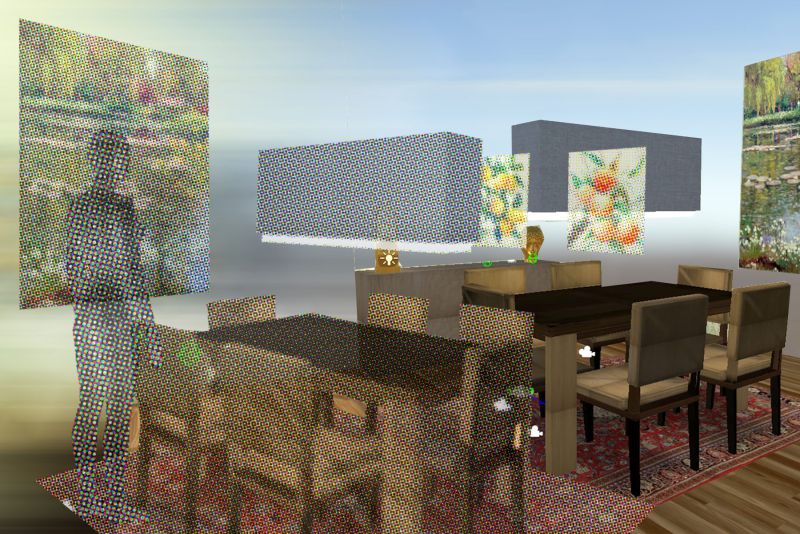 The world today functions within the intersection of the physical and the virtual as a result of the pandemic. The virtual affords us to navigate through and establish spatial relations within a 2-dimensional interface we call the screen. Inhabiting virtual space means to enter a condition of suspension; there is no ground in the virtual- it is only but an abstraction. And yet, we've become accustomed to visually hang on to spatial coordinates that imply a sense of grounding- a grounding driven by first-person perspective. What happens if perspective in the virtual is no longer ours? Can one navigate space with the help of a borrowed, out-of-body perspective? What if this visual input multiplies- a multitude of perspectives, none of which is your own? How can one establish a sense of ground, a notion of stability, a return to one's own body?
Tatjana Mauthofer, Nathaniel Frempong, Sebastian Mast (film & photography), Luis Xavier Nuñez (soundtrack), Amelia Uzategui Bonilla, Prapatsorn Sukaset & Chihan Feng.
This project is a part of the process-oriented Artist Residency offered by ID_Tanzhaus Frankfurt Rhein-Main, an initiative of ID_Frankfurt (Independent Dance and Performance e.V). It is supported by DIEHL+RITTER / TANZPAKT RECONNECT, which is funded by the German Federal Government Commissioner for Culture and the Media as part of the NEUSTART KULTUR initiative.