GUT SYMMETRIES

Can time stand still? What is it about an event that leaves us feeling somewhere between stillness and movement, in the space of what was before, and whatever comes next?
Dance/performance
THU 23.06.2022
8:00pm — 9:00pm
Premiere
Landungsbrücken Frankfurt
Tickets 15,- €, reduced 10,- €
Ticket needed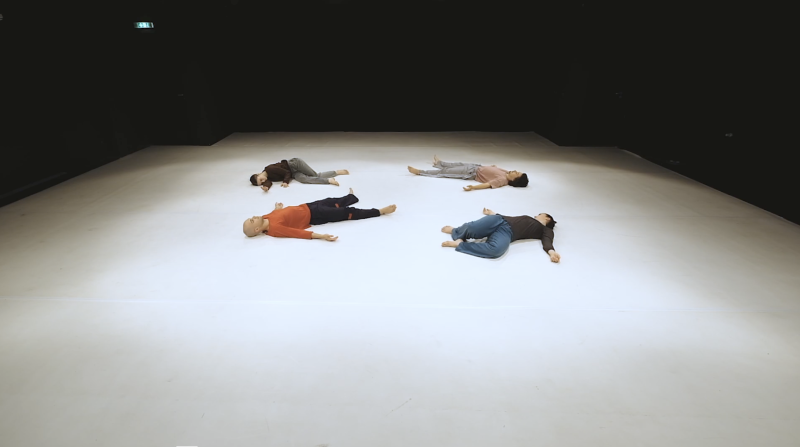 Four people lie on a brightly lit floor and stretch their arms and legs.
Henri Bergson referred to subjectively perceived time as duration (durée). Lived time, which is different from objective time, is endless in movement and immeasurable.
In this new hour-long work, Laura Hicks and four dancers explore physical states that stretch, invert or break our perception of time. Hicks has set them an impossible task: They are to capture the moment they are in, but at the same time feel the forward movement of time and go with it. Borrowed from Jeannette Winsterton's 1997 novel of the same name, the title "Gut Symmetries" refers to the English phrase "trust your gut" - that intuition that draws us towards or away from something. Yet it is the symmetries, the parallels in our experiences, that create connections despite all the differences and variations.
Concept and Choreography: Laura Hicks
Dance: Luciano Baptiste, Abril Lukac, Fabien Riess, Laura Schönlau
Sound and Lighting: Gregor Glokowski
Dramaturgy: Martin Nachbar
Photo Credit (c) Christian Schuller | Screenshots from Video
Sponsored by the Cultural Office of the City of Frankfurt am Main
Further dates:
FRI 24.06. | 8:00pm

Landungsbrücken Frankfurt

THU 30.06. | 8:00pm

Landungsbrücken Frankfurt

FRI 01.07. | 8:00pm

Landungsbrücken Frankfurt