An open-air dance festival for everyone at the Licht- und Luftbad Frankfurt-Niederrad.
Saturday, 19th of August and Saturday, 2nd of September - each from 3 to 5 pm.
*PLEASE SCROLL DOWN FOR THE PROGRAM*
The Frankfurter Tanzsommer took place in the "Kulturerwachen. Frankfurt 2023" program, an initiative of the Frankfurt Department of Culture and Science, the Crespo Foundation and the Stiftung Polytechnische Gesellschaft Frankfurt am Main.
We would like to thank everyone involved - artists, team, audience members - who made these two days so special!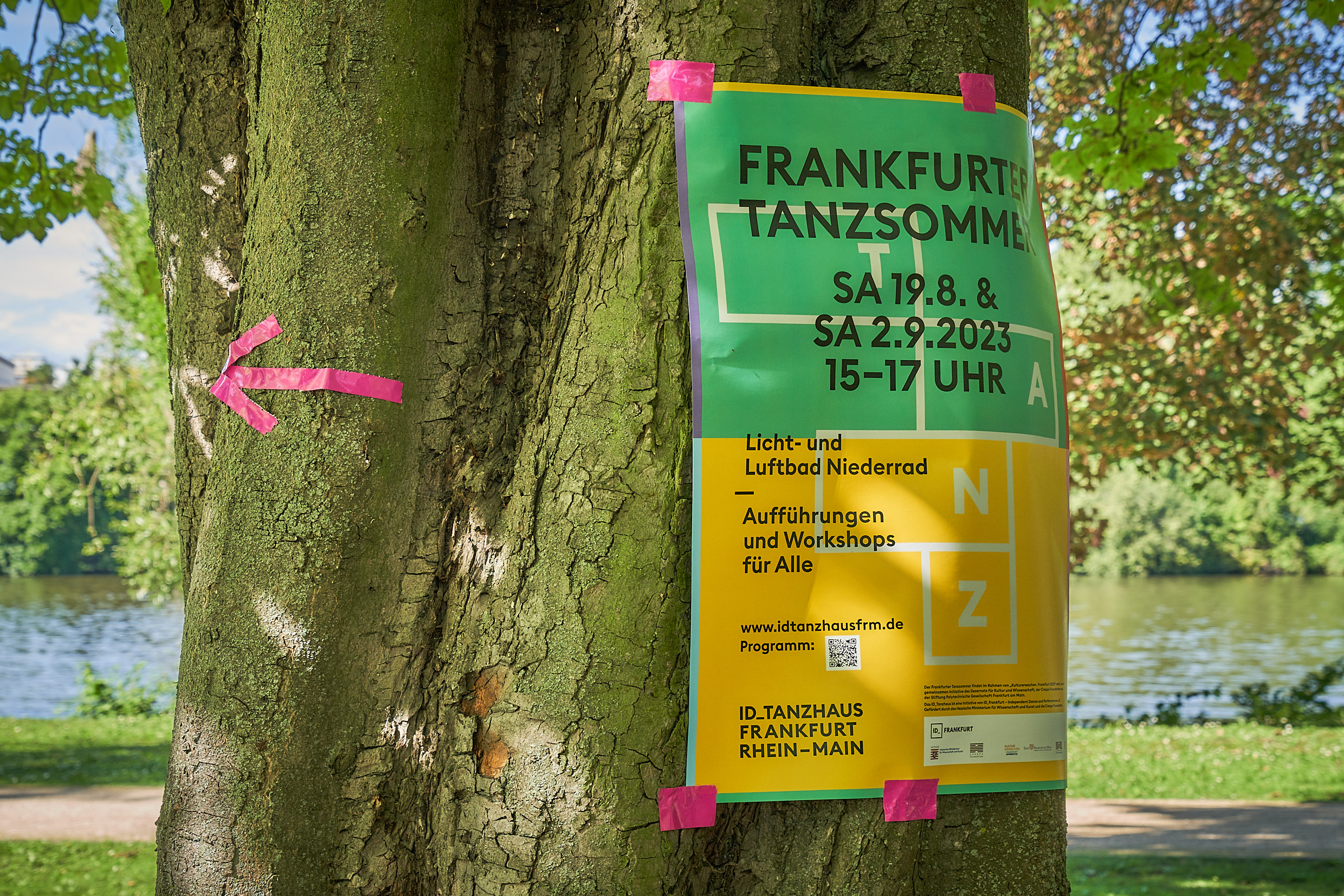 Photo: Jörg Baumann
ID_Tanzhaus FRM invited to two days of open-air dance celebration at the Niederräder Licht- und Luftbad (LiLu). The program included dance performances and dance-along opportunities for all age groups in different dance styles.
There was childcare during the dance festival and the Ponton at LiLu sold food and drinks.
The "Frankfurter Tanzsommer" was free of charge for the public.
Awareness
ID_Tanzhaus FRM sees itself as an initiative based on solidarity and "Frankfurter Tanzsommer" sees itself as a festival of solidarity. We position ourselves explicitly against any form of racism, anti-semitism, sexism, homophobia, transphobia and ableism. There will be an awareness team on site that can be contacted at any time. Both of them can be recognized by the taped A on their bodies. You can also reach the awareness team by the number given to you on the day. The awareness concept will be hung up in paper form in LiLu, too.
It is important to us to contextualize the LiLu historically as a place that was one of the last bathing places accessible to Frankfurt's Jewish population until 1938. As of November 1938, Jewish Frankfurt residents were completely prohibited from using public baths; the following year, the Licht- und Luftbad was taken over by the National Socialist organization SA. On site, the monument to the left of the southern entrance bears witness to this part of LiLu's history. Here you can find more info about the history of the bath (the article is in German).
If there are any questions, please don't hesitate to contact Dörthe Krohn (pronouns: she/her): produktion@idtanzhausfrm.de
Directions to LiLu (Niederräder Ufer 10, 60528 Frankfurt)
by bike via the southern river Main cycling path
by public transport: tram lines 12, 15, 21
-> stop Heinrich-Hoffmann-Str./Blood Donation Service and 400 m on foot in the direction of the river Main
by car: Friedrichsheim Clinic car park
Please note: The parking lot of the LiLu is quickly overcrowded and closed after dusk.
Accessibility
The Licht- und Luftbad Niederrad (LiLu) is accessible for wheelchair users. A wheelchair-accessible toilet is available (door width 80 cm). There is also a second wheelchair-accessible toilet available in "Hofmanns Höfe". A person from our team has the key and will gladly accompany you there, it's about 500 m from LiLu.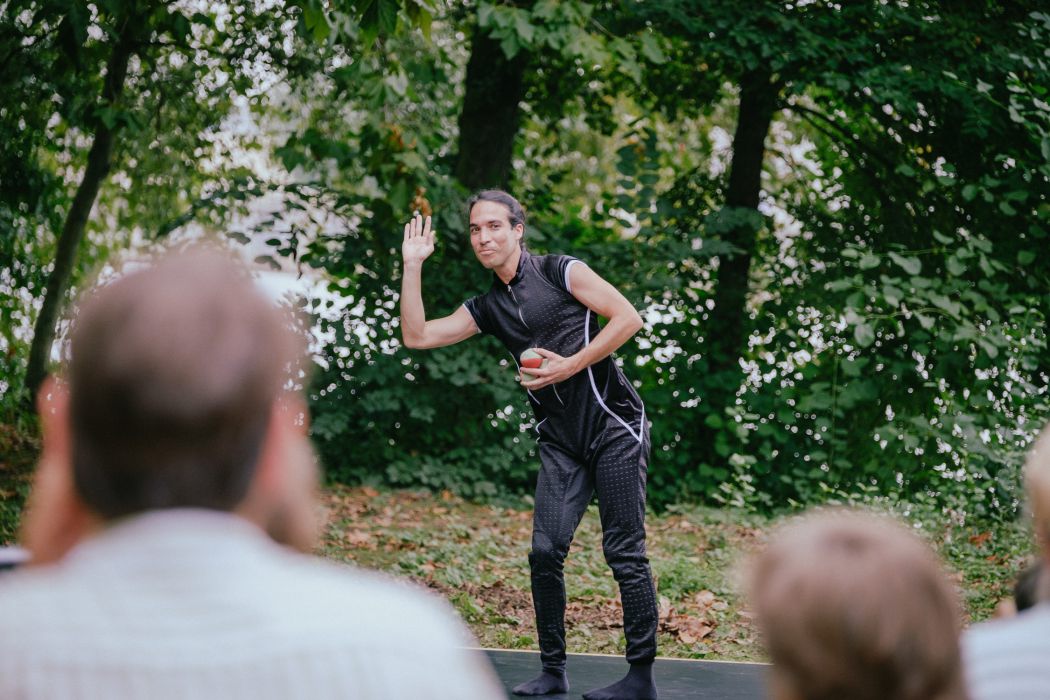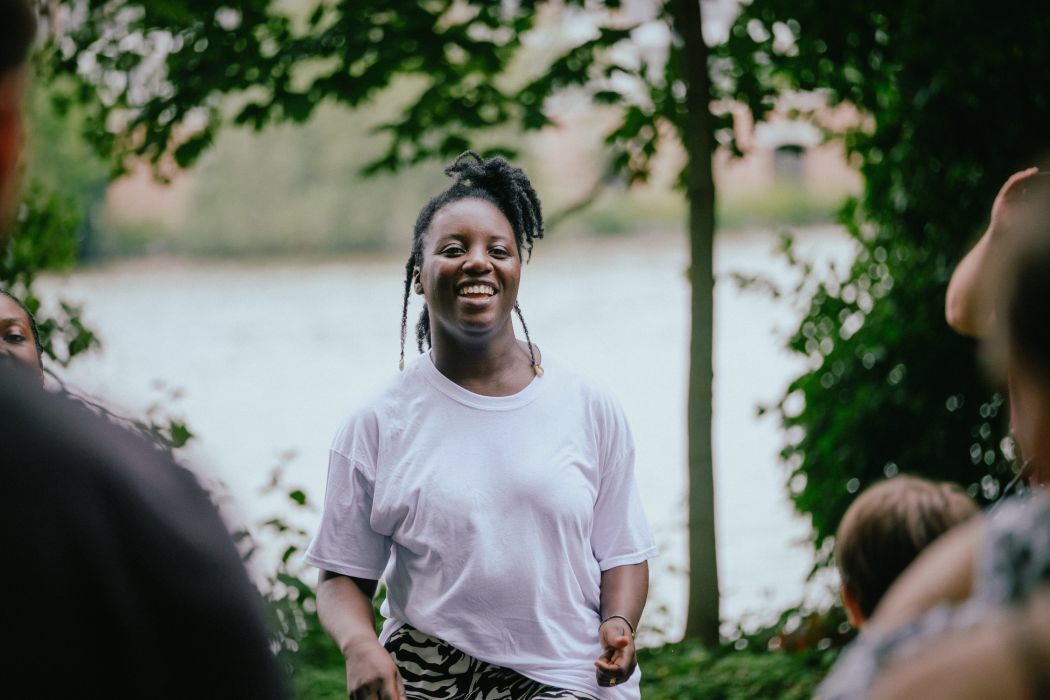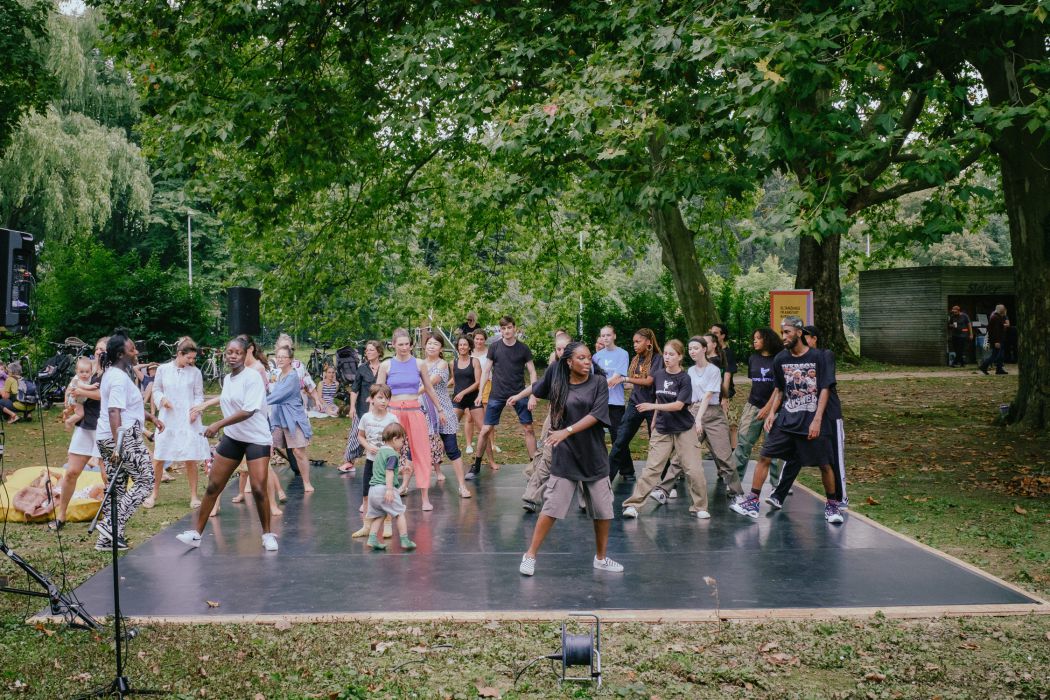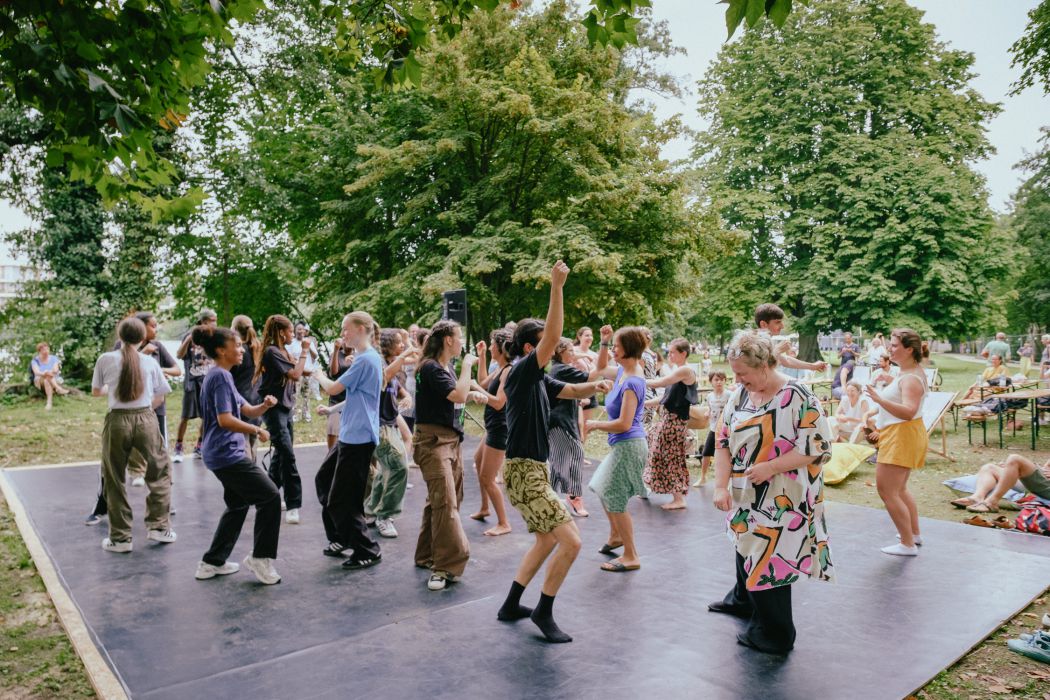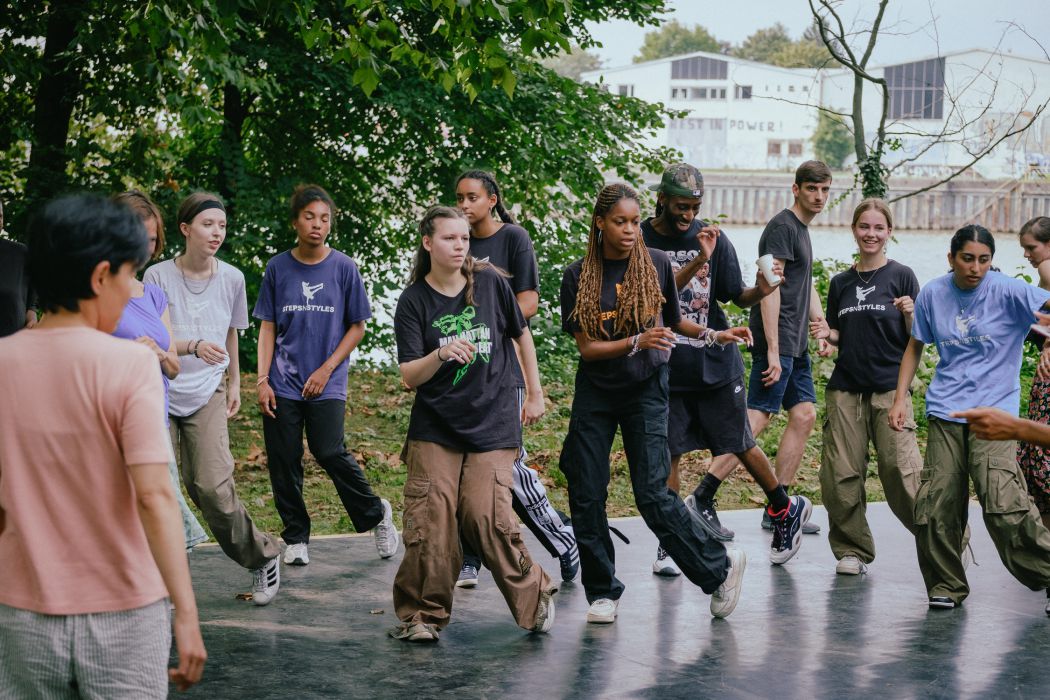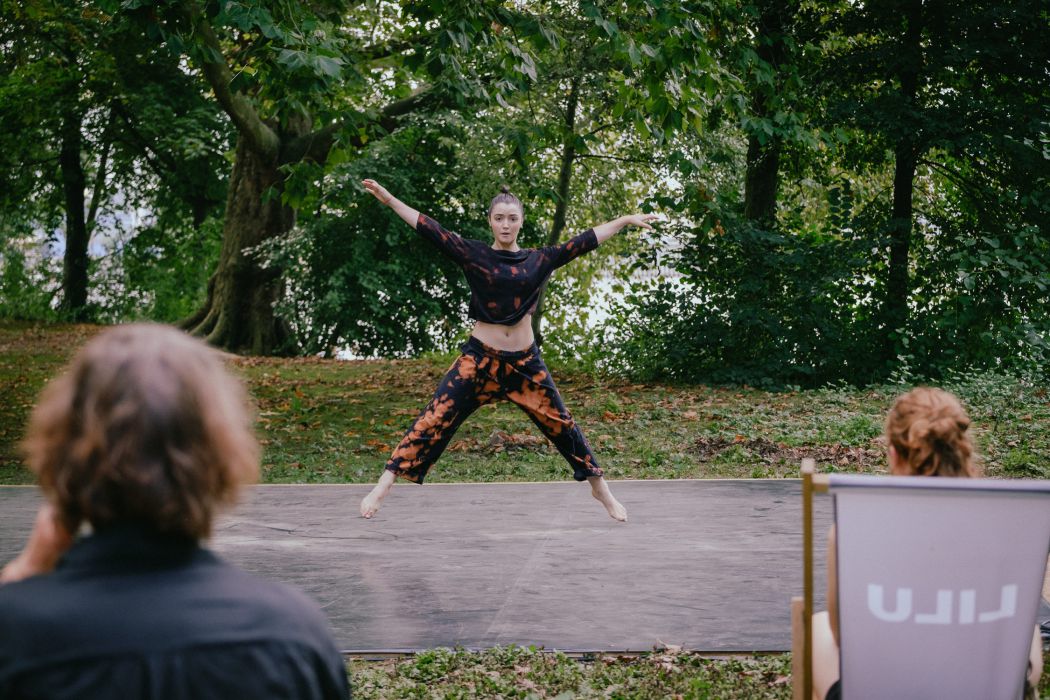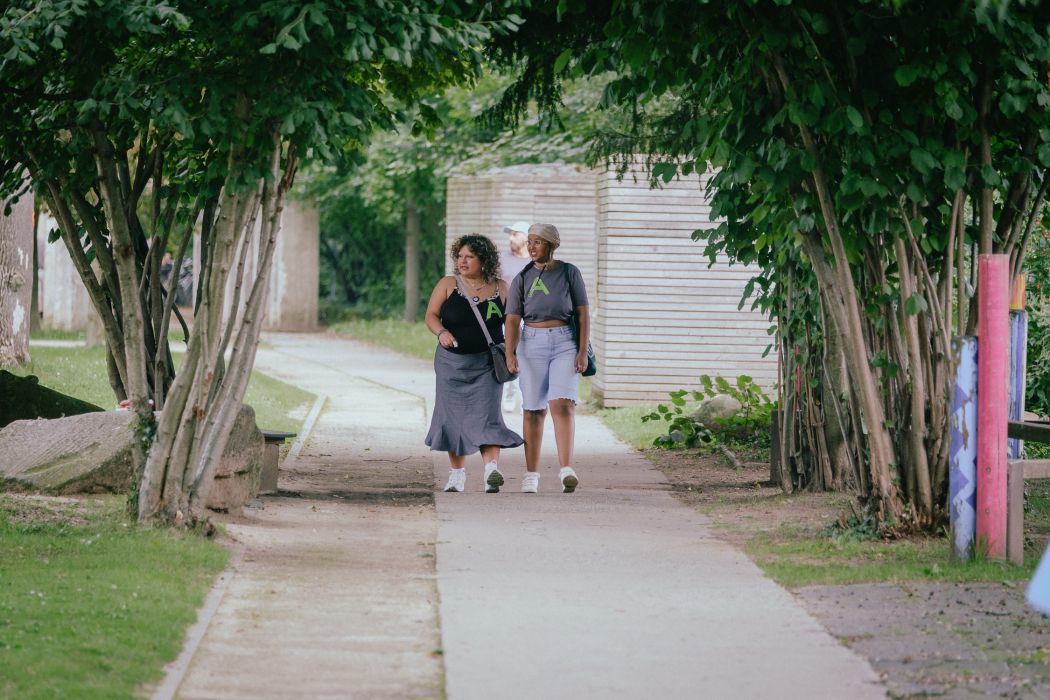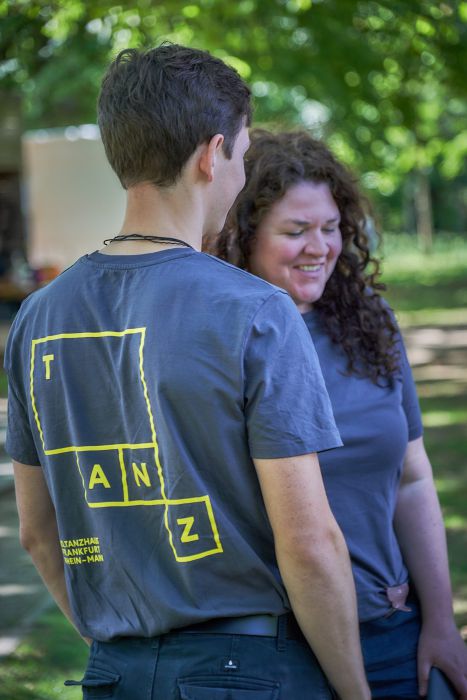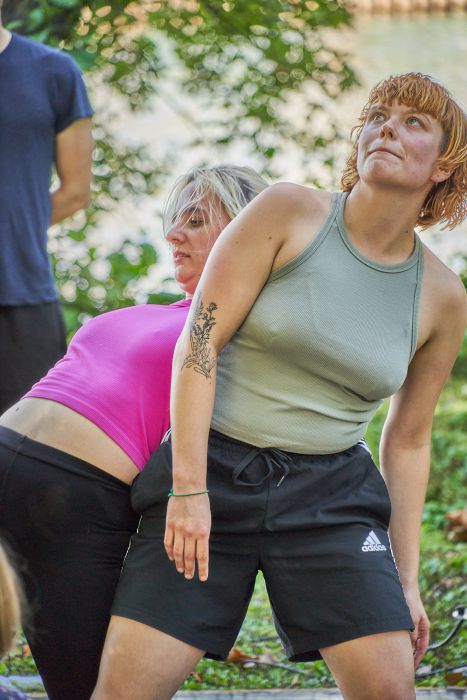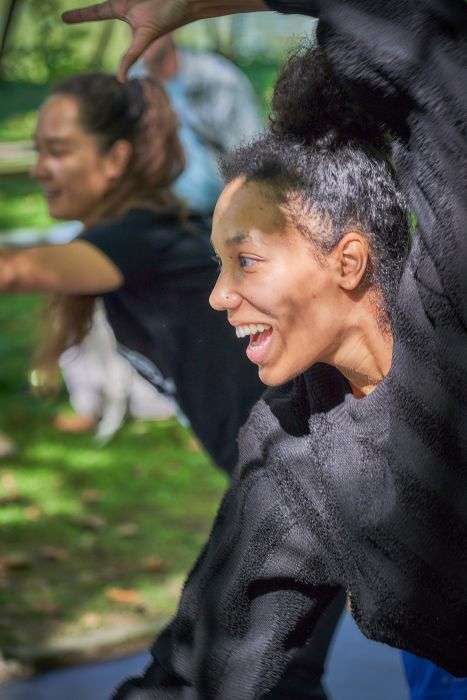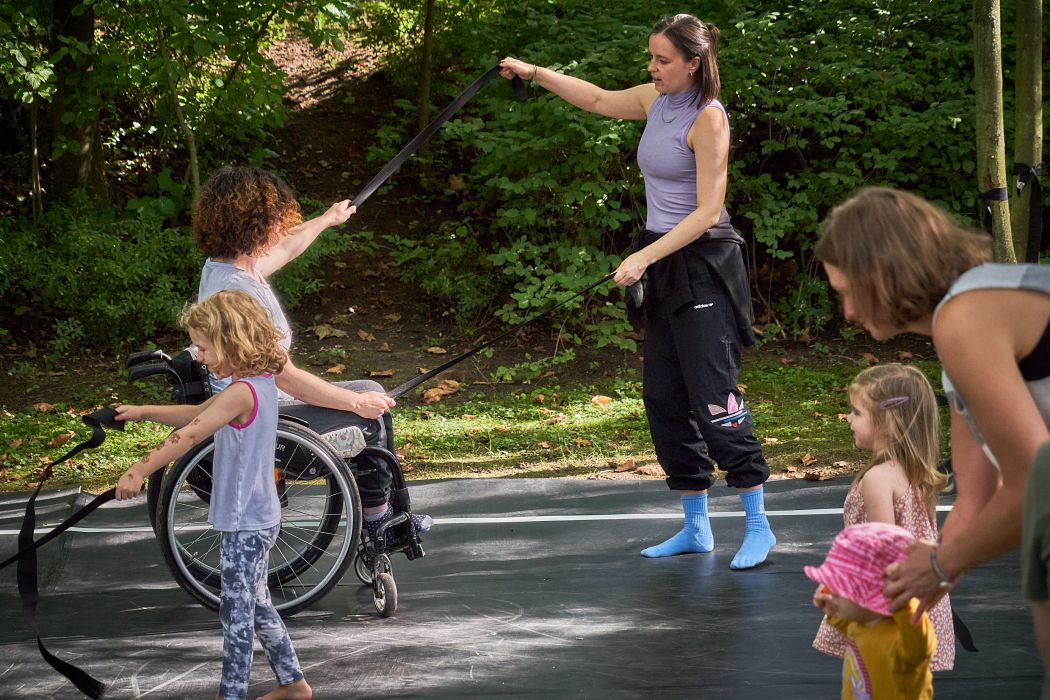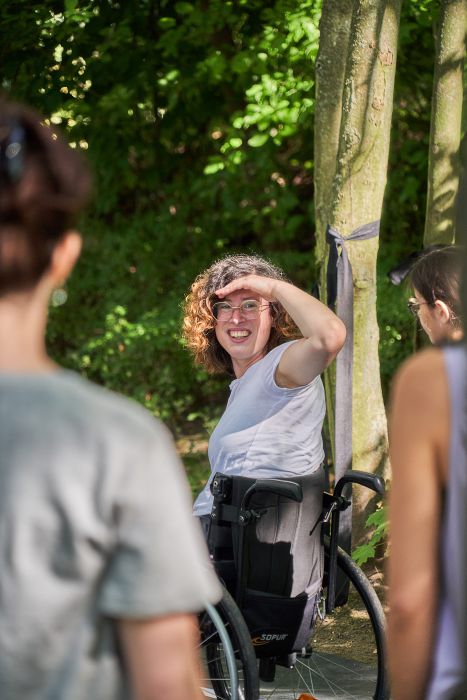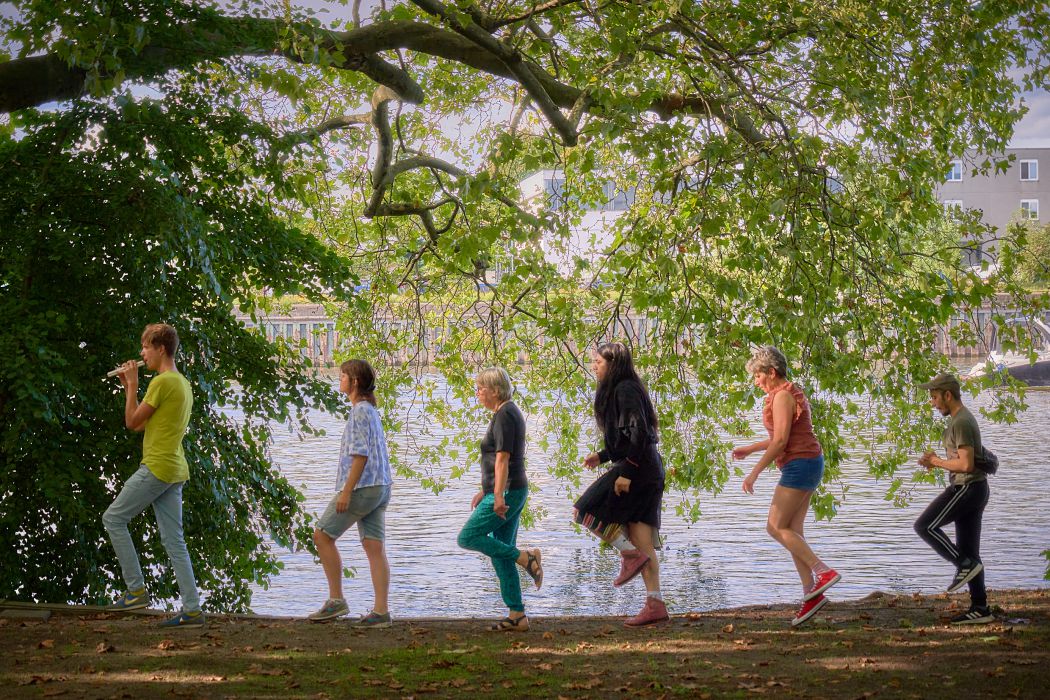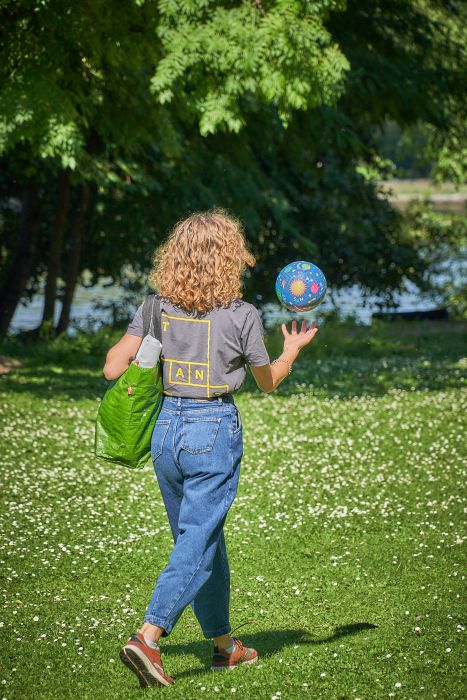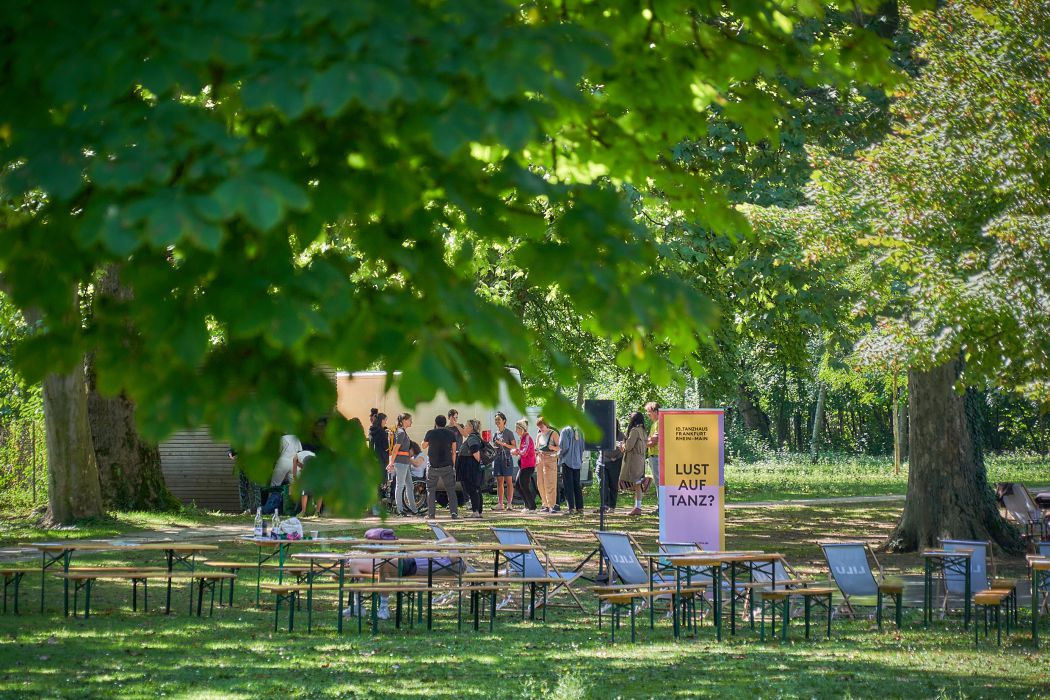 (c) Photos: Jörg Baumann, Christian Schuller
The "Frankfurter Tanzsommer" kicks off with Adam Shpira-Lintner's clownish solo dance performance. Coming from angular, straight movement sequences, the piece "Colorin Colorado" discovers new movement possibilities, for example by transforming into a butterfly, a storm and a flamingo tree! What else will be conjured up on stage during this fantastic journey?
Joy and lightness fit the summer and can unfold in the workshop with Karoline Hinkfoth. Through small textile impulses and movement experiments, possible limits and actual spaces for a dance implementation of joy and lightness will be explored. The focus is on how sensations can be experienced, embodied and acted out through movement individually and with appreciation and respect for one's own body and one's own scope of movement. The result is a dance "confrontation" of different approaches to joy, which celebrates the common in the different in the group.
The group convinces through diversity in all areas: Dancers of different nationalities and artistic influences from urban style, Afrobeats to African folk dances. #WhenTheVibeIsRight fuses choreographic elements and rousing solo performances into a dynamic ensemble. And the best part? Today YOU can try out the different dance styles and learn some steps yourself!
Steps'N'Styles is back! At our "Frankfurt tanzt" last year they already have brought a lot of energy to the stage and to the audience and made everyone eager to join in. Their motto "One Passion, One Family, One Way" is taken by heart by the group (who is known best for competing with Crew Maṣālěḥ), when they all take the stage together with dance and acrobatics. They dance hip-hop, house, locking, popping, waacking, voguing, dance hall and afro in a show that combines freestyle and choreography. And the best part: after the show, everyone can dance along!
"Prelude to a Beautiful Flower" is the name of Abril Lukac's solo dance performance in which, in view of the economic and ecological catastrophe that has already begun and is still threatening, she asks her generation what desirable futures might look like. In her dance statement, she focuses on her vitality and the idea of a beautiful future, despite the serious problems. "Prelude to a Beautiful Flower" was created with the intention of sharing the possibility of desiring in an active way.




Program 2nd September 2023
With "Moveship", Gena-Maria Weinlich and Anne-Sophie Brunold will be opening the second edition of the "Frankfurter Tanzsommer" on 2nd of September. The participatory movement performance deals with interpersonal relationship issues and thrives on the participation of the audience. Individual numbers are assigned to various dance elements, which enables the audience and performers to play games together and even swap roles. How people relate to each other is the core theme of this dance excursion.
Sandra Domnick and Magdalena Dzeco from the workshop platform "Movement Sessions" offer a movement program for the little ones with the motto "Favorite Animals". The "animal journey" ("Tierische Reise") playfully explores large and small, fast and slow, loud and quiet animals and presents them in dance. The children also travel to the animal kingdom with animal sounds through their jointly thought-out little story in order to experience adventures.
The Luft und Lichtbad as a place for fun, relaxation, connection and regeneration through water, light and air inspires the workshop Light, Air, Body, Dance with Ewelina Zielonka and Sibylle Magel. By concentrating on one's own body and on the environment, perception is sharpened. Then principles of spontaneous composition are used and lead to partner work. Touching and closing the eyes awakens a state of "bodymind" that promotes creative movement, relaxation and integration.
Pull! Let yourself hang! Let it tighten, let go, let yourself fall! Hannah Dewor, Karoline Hinkfoth and their workshop participants engage in a dance dialogue about tension bands. Under the title "Family Ties" ("Familienbande"), elastic bands serve as impulse transmitters and movement initiators. They effortlessly entice people to try out swinging and exciting movements and to ask each other to dance.
"local dancing" invites to circle dances accompanied by live keyboard music. They can be danced by anyone - the goal is to involve as many people as possible. By emphasizing the communal aspect of dance and using simple, repetitive movements, individual creativity or virtuosity take a back seat. The dances' purpose is to serve common pleasure. We aim to attract people who would not normally dare to dance in front of and with others.