TRIO.
For the Beauty of it
Dance
WED 08.02.2023
7:30pm — 8:40pm
Künstler*innenhaus Mousonturm - Saal
Ticket needed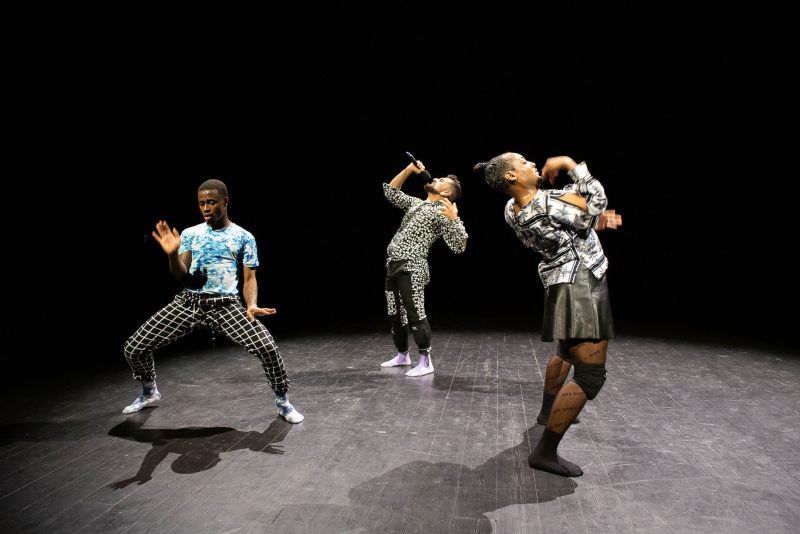 *Text only in German available*
Selbstermächtigung in körperlicher Bewegung erleben – das ist der Ansatz dieses von Monika Gintersdorfer choreografierten Stücks, in dem sich drei Tänzer die Bühne teilen: Aus der New Yorker Voguing-Szene kommend begeistert Alex Mugler, sowohl in Ballettschuhen als auch in High Heels, Pop-Größen à la Rihanna genauso wie Star-Choreograf*innen wie Boris Charmatz. Carlos Martínez wiederum ist in der Sonidero-Kultur Mexikos groß geworden, wo tourende Soundsysteme mit ihren DJs Tanzwütige mit den neuesten Songs bei Stange halten. Unter dem Namen Ordinateur bewegt der dritte Tänzer seine Füße derart präzise, dass ihm der Spitzname Magic Feet vorauseilt. Couper Décaler heißt der ursprünglich von der ivorischen Diaspora in Paris entwickelte Stil, den Ordinateur bis heute mitprägt. "TRIO – For the Beauty of It" bringt drei Tänzer zusammen, die für Spielarten von schlauer und virtuoser Angeberei stehen und verlässlich das Publikum (und die Konkurrenz!) in den Quartieren der Städte dieser Welt überwältigt zurücklassen.
By: La Fleur (Monika Gintersdorfer / Carlos Martínez / Alex Mugler / Ordinateur)
Directing: Monika Gintersdorfer
Music: Timor Litzenberger
Costumes: Bobwear Arturo Lugo
Production: Gregor Zoch with Carlos Martinez, Alex Mugler, Ordinateur, Timor Litzenberger
Produktion: La FleurKoproduktion: Théâtre Vidy-Lausanne, Zürcher Theaterspektakel, Pumpenhaus Münster, Kampnagel Hamburg. Unterstützt durch das NATIONALE PERFORMANCE NETZ Koproduktionsförderung Tanz, gefördert von der Beauftragten der Bundesregierung für Kultur und Medien. "Claiming Common Spaces V" ist ein Projekt des Bündnisses internationaler Produktionshäuser, gefördert von der Beauftragten der Bundesregierung für Kultur und Medien.