DANCE SHORT FILMS & TALK AT "MAL SEH'N KINO FRANKFURT"
"Leben" behandelt das Thema Depression und Borderline und "the book i will never write" das Thema Alterseinsamkeit
"Leben" and "the book i will never write" - 2 short films, 2 themes!
Dance/performance
SUN 24.07.2022
4:00pm — 5:00pm
Premiere
Mal Seh´n Kino Frankfurt, Adlerflychtsstrasse 6, 60318 Frankfurt am Main
Financed by the Arbeits- und Brückenstipendium of the Hessian Ministry of Culture, the actor and dancer Manuel Gaubatz and the actor and videographer Oliver Magda have taken up the topic of depression in connection with borderline and, as a further topic, loneliness in old age. Born out of the idea of giving a voice to these hushed-up topics, two powerful short films about life were created. The artist Jelena Markovic, will be present, as well as Manuel Gaubatz and Oliver Magda. Bianca Gaubatz, Manuel Gaubatz's twin sister and the source of inspiration for the first film "Life", will also be attending.
Ticket needed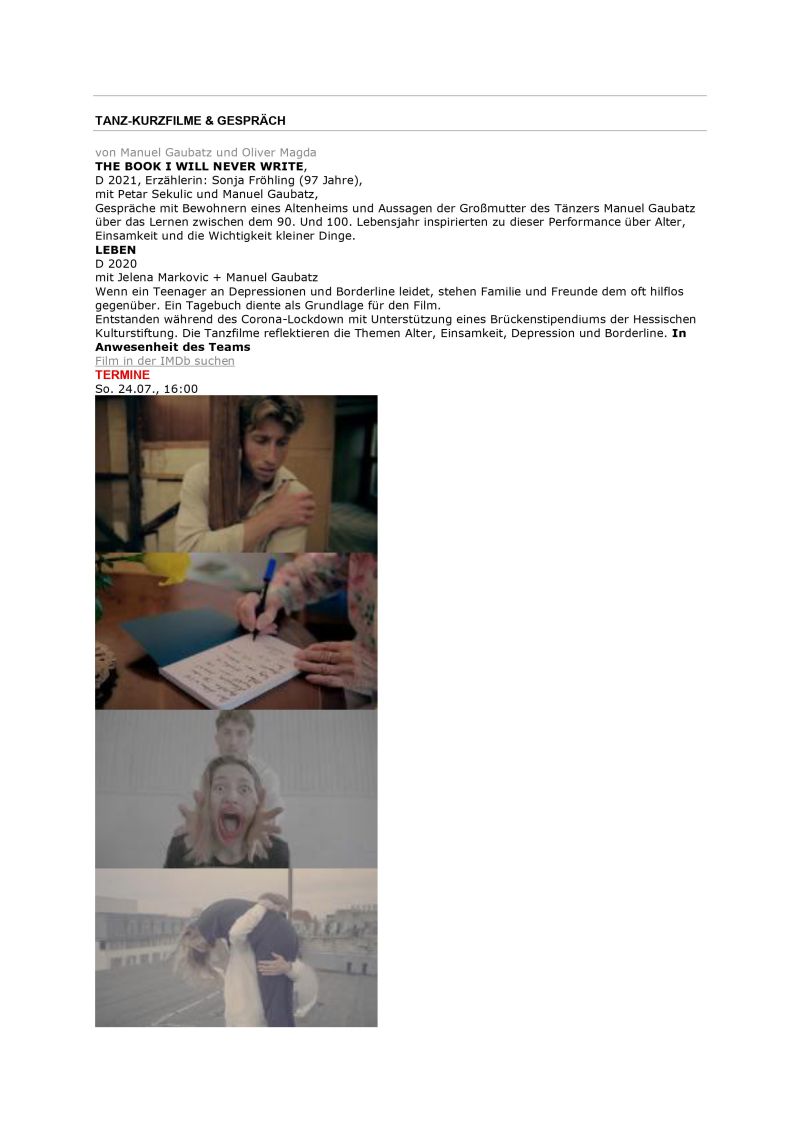 THE BOOK I WILL NEVER WRITE, D 2021, narrator: Sonja Fröhling (97 years), with Petar Sekulic and Manuel Gaubatz, conversations with residents of retirement home and statements by the grandmother of dancer Manuel Gaubatz about learning between the ages of 90 and 100 inspired this performance about old age, loneliness and the importance of small things.
LEBEN, D 2020 with Jelena Markovic + Manuel Gaubatz. When a teenager suffers from depression and borderline, family and friends are often helpless in the face of it. A diary served as the basis for the film. Made during the Corona Lockdown with the support of a bridge scholarship from the Hessian Cultural Foundation. The dance films reflect the themes of age, loneliness, depression and borderline. In the presence of the team! After each film there will be a small audience discussion with the participants.
- Music and Soundtrack by Zweigeist - Max Alt-Hessenbruch
Hessisches Kultusministerium GDA Wohnstift Theaterhaus Berlin Mitte