SZENARIO
Performance Musical
The most important genre of contemporary art is the funding application. In 'SZENARIO', this becomes the absurd book for a musical. Four forestry workers in a snowy landscape sing about "activities to achieve their objectives," their "budget for funding and costs" and their individual struggles with work, poverty and personal fulfilment.
performance, Dance/performance
FRI 26.05.2023
8:00pm — 9:30pm
Produktionshaus NAXOS, Frankfurt am Main
Ticket needed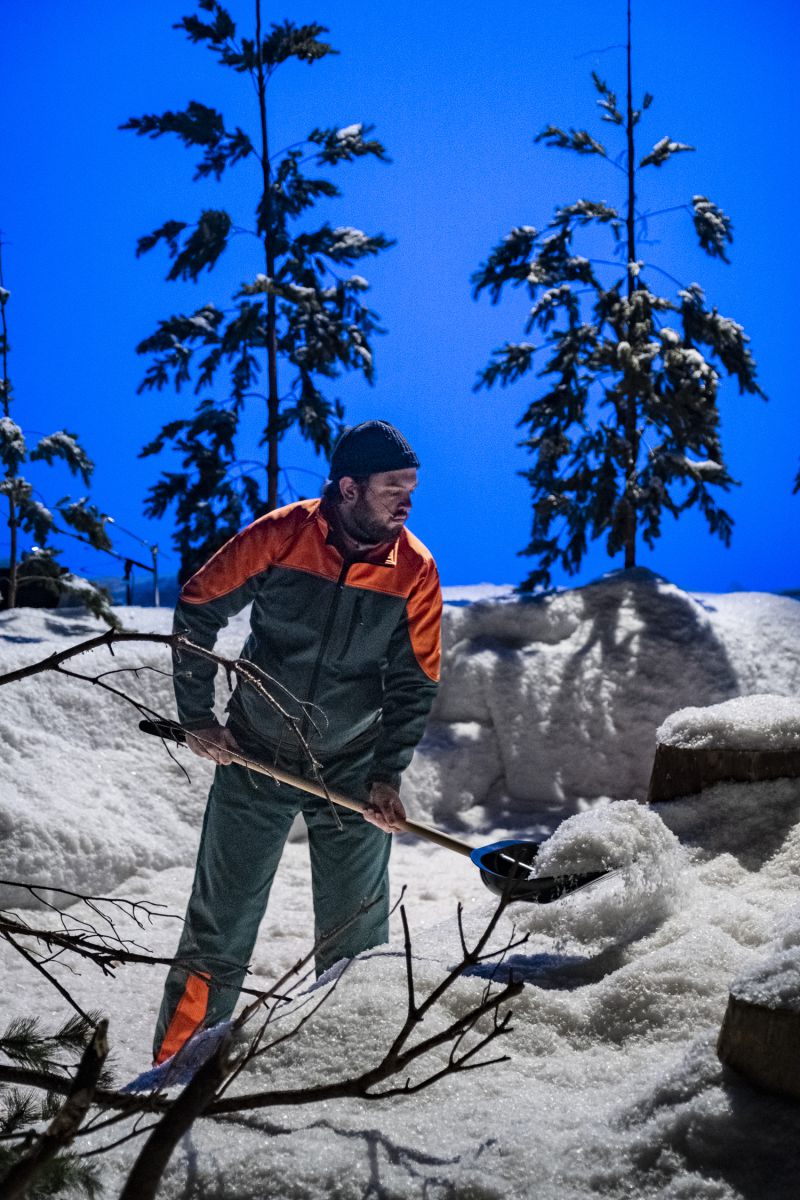 A forest worker holds a shovel in a wintry snowy landscape.
Enthusiastic self-exploitation now happens everywhere. But artists started it. From their dream of being able to identify themselves with their own work, capitalism has created an image of the paid employee as a lone warrior who bears all the entrepreneurial risks personally. Including the insecurity this brings with it.
– This is one of the theses in SZENARIO, which the performers present in song form. Nevertheless, art remains estranged from other worlds of work: "I don't know, do people still make screws?" asks one of the singers to jolly music while struggling with a fir tree that blocks his way through the snow. What is work? Does it make any sense? With humour and subtle irony, the production places a reflection of labour relations in a neoliberal, capitalist system on stage that is at least as beautiful to watch as a Christmas fairy tale.
"The evening switches between good cheer, bitter irony, ice-cold clarity and justifiable mawkishness to provide excellent and intelligent entertainment." Ursula Böhmer, Deutschlandfunk Musikjournal, 21.11.2022
With: Ana Berkenhoff, Daniel Degeest, Alina Huppertz, Dominik Keggenhoff plus Jakob Boyny (cello), Jacob Bussmann (piano) and Špela Mastnak (vibraphone & percussion)
Direction: Jan Philipp Stange
Music: Jacob Bussmann
Stage Design: Jakob Engel
Costume Design: Maylin Habig
Production: Alessia Neumann, Paula Noack
Dramaturgy: Philipp Scholtysik
Stage Design Assistant: Kathrin Frech
Press and Public Relations: Annika Schmidt
A production by Stange Produktionen. In co-operation with Produktionshaus Naxos. With kind support from the City of Frankfurt am Main Department of Culture, the Fonds Darstellende Künste with funding from the Federal Government Commissioner for Culture and the Media, Kulturfonds Rhein-Main, the Claussen-Simon Foundation, the Hessian Ministry for Science and the Arts, and others. Stange Produktionen receives multi-year institutional funding from the City of Frankfurt am Main Department of Culture and the Fonds Darstellende Künste.
Further dates:
SAT 27.05. | 8:00pm

Produktionshaus NAXOS, Frankfurt am Main

SUN 28.05. | 8:00pm

Produktionshaus NAXOS, Frankfurt am Main