ROUGH PROPOSALS
sundown to sundown
Dance, performance, showing, site-specific performance, workshop, other
FRI 23.06.2023
3:00pm — 3:00pm
Premiere
Theaterlabor (PB3000) Bismarckstraße 24A 35390 Gießen
Registration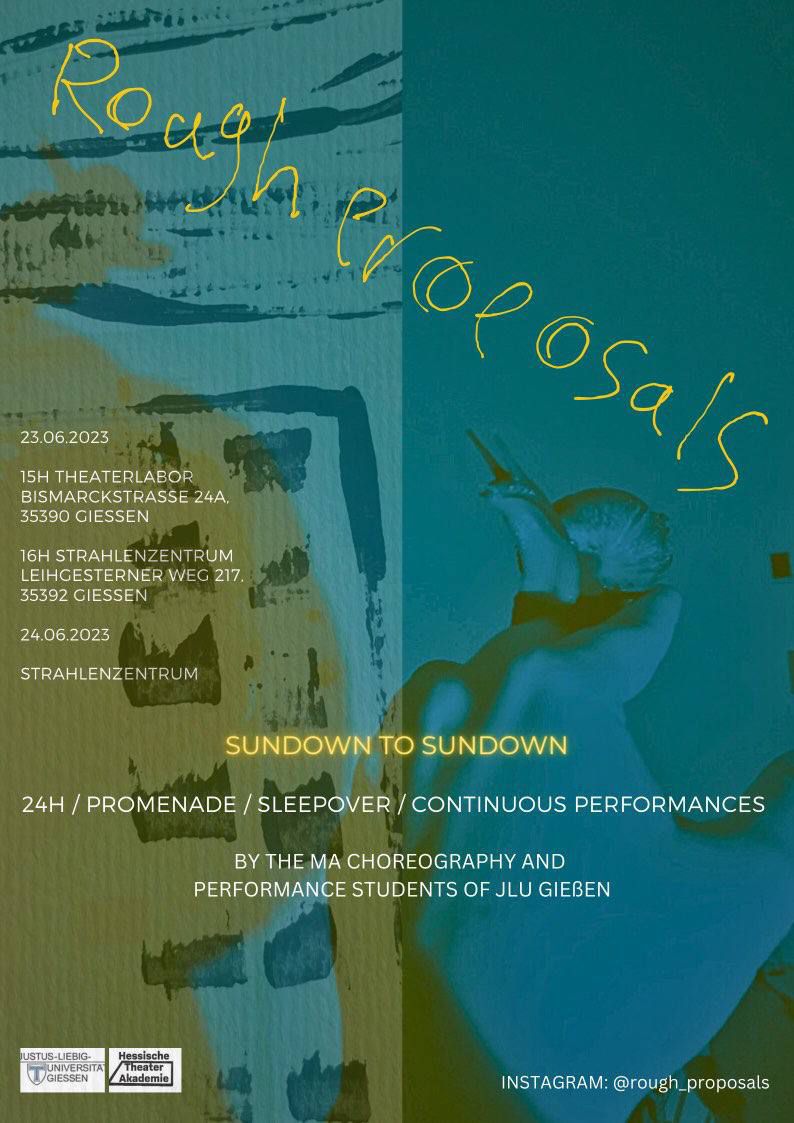 Poster
Rough Proposals – Sundown to Sundown
Step into the journey that leads you from the afternoon hours through a dreamy summer night, to the first rays of the morning sun and carries you well into the next day.
Rough Proposals – Sundown to Sundown invites the audience to join a 24-hour long gathering to experience performances, interventions, installations, workshops, meals, music and more – artistic proposals and experiments made by and with the first-year MA Choreography und Performance students.
On Friday the 23rd of June at 3pm we welcome you to join a promenade from Theaterlabor to the middle of nowhere. Please be on time. From 4pm until late Saturday afternoon we will explore and inhabit the spaces and surrounding grounds of the Strahlenzentrum. And for those who wish, there is an opportunity for a sleepover with us at Strahli!
All performances are free of charge.
Please register to the event via the link. In there you will also find our Helping Hands sign-up sheet!
Rough Proposals 2023 event sign-up https://docs.google.com/spreadsheets/d/1GJBatrWJcRRSsz1JRpFlwNHFcdzyFPpY7FTBHAja8k4/edit?usp=sharing
JLU Gießen Hessische Theaterakademie