PROFESSIONAL TRAINING TANZPLATTFORM RHEIN-MAIN
with Amelia Uzategui Bonilla
The professional training is aimed at professional dance practitioners (dancers, choreographers, dance teachers and dance students).
technique class
MON 21.03.2022
10:00am — 11:30am
Künstlerhaus Mousonturm - Probebühne 3
The training takes place in presence.
At the moment the number of participants is limited to 10 persons and the 2G+ rule applies. The complete hygiene concept and other important information can be found in the confirmation email.
Registration at anmeldung@tanzplattformrheinmain.de with the following information: Name, address, availability. In case of spontaneous participation without registration or very short term registrations, we cannot guarantee a place.
Registration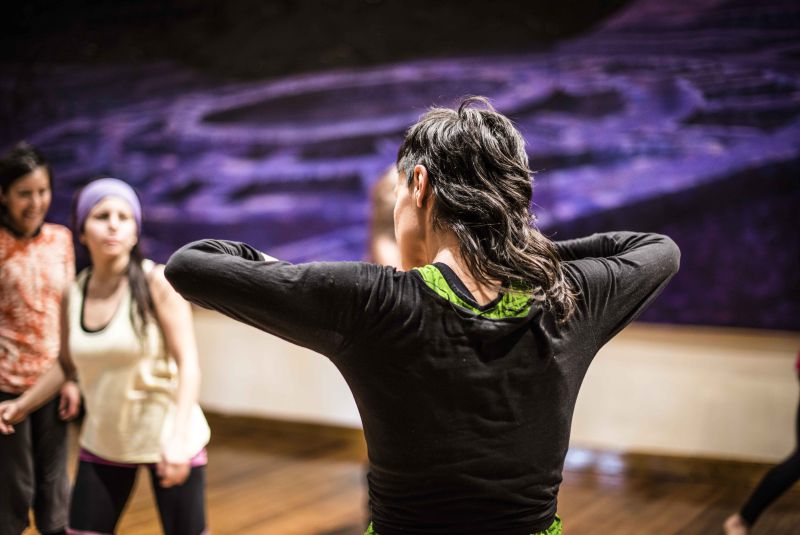 Photography: Adriana Peralta
Training Description
All the world likes to dance to a rhythm. Or even to several rhythms. Dancing to layers of sound. Not only do most of us enjoy this kind of dancing, but we also enjoy watching others move while carrying the beat, whether it's audible or not. We can feel it when it's there. It's in the way each of us walks, the way we speak in our various dialects, our slang. It's in how we tell a story, communicating affect, sensation and rhythm. This week, we will practice hearing and responding to many beats, and dance together with set sequences and improvised scores challenging speed, centering relationality, and welcoming errors. Methods from somatics, improvisation, perreo, salsa, and festejo will be applied.
Biography
Amelia Uzategui Bonilla was born in Lima, Peru. She has performed professionally since 2007 in the United States, South America, and Europe. They have choreographed solo and group work since 2010, and learned with innovative artists, notably, Marina Abramović, Adam Barruch, Cunamacué- Afro-Peruvian Dance, Ángeles D1, Luís Antonio Vílchez, Anna Halprin, NAKA Dance Theater, Tino Sehgal, and Nina Wise. A graduate of Juilliard (BFA) and the HfMDK Frankfurt (MA), Amelia is part of the team leading ID_Frankfurt- Independent Dance and Performance e.V.'s ID_Tanzhaus FRM.
Tanzplattform Rhein-Main, a project of Künstlerhaus Mousonturm and Hessian State Ballet, is made possible by the Kulturfonds Frankfurt Rhein-Main and is funded by the Cultural Office of the City of Frankfurt am Main, the Hessian Ministry of Science and Art and the Foundation Alliance [Aventis Foundation, BHF BANK Foundation , Crespo Foundation, Dotter Foundation, Dr. Marschner Foundation, Foundation Polytechnic Society Frankfurt am Main].
Further dates:
TUE 22.03. | 10:00am

Künstlerhaus Mousonturm - Probebühne 3

WED 23.03. | 10:00am

Künstlerhaus Mousonturm - Probebühne 3

THU 24.03. | 10:00am

Künstlerhaus Mousonturm - Probebühne 3

FRI 25.03. | 10:00am

Künstlerhaus Mousonturm - Probebühne 3