PATTERNS OF PERCEPTION
Performance for 4 dancers, a musician and a drone
Surveillance. Technology. Future. "Arguing that you don't care about the right to privacy because you have nothing to hide is no different than saying you don't care about free speech because you have nothing to say" - Edward Snowden.
Dance/performance
SUN 03.07.2022
8:00pm — 9:00pm
Schlachthof Wiesbaden
Find us on Instagram: @patterns0fperception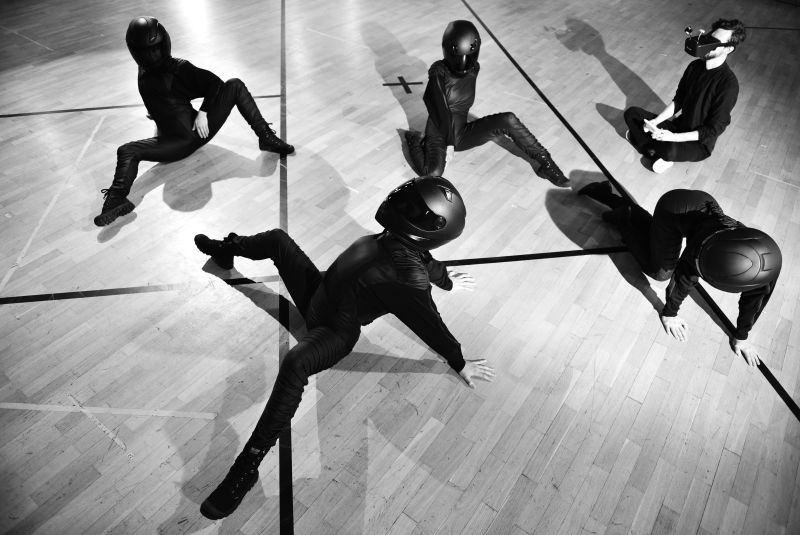 Fotografie: Darya Arefyeva
Patterns of Perception is an interdisciplinary performance at the intersection of technology, dance, and music that addresses the current discourse on surveillance, privacy, and the impact of technology. The work imagines not only dystopian visions of the future but also possibilities of creative, superhuman coexistence by questioning control, dependence, addiction, as well as interplay and harmony with new technologies. The performers embody a machine-learning algorithm gaining autonomy in a system controlled by the drone and music, or a utopian picnic landscape of technological harmony and hypnotic symbiosis, followed by a struggle created by the seamless polarization of the drone.
Concept, Choreography & Production: Maria Kobzeva Choreographic- & Production assistant: Sandra Domnick Developed with Sandra Domnick, Magdalena Dzeco, Patscharaporn Distakul, Maria Kobzeva Danced by: Sandra Domnick, Maria Kobzeva, Nadja Simchen, Clara Valdera Music: Max Clouth Drone pilot: Lukas Stemmler Costumes: Michaela Kraft
Coproduced by Offenes Haus der Kulturen. Developed in a residencies at the ID_Tanzhaus Frankfurt Rhein-Main and the Tanzplattform Rhein-Main. Supported through Kulturamt der Stadt Frankfurt & Hessisches Ministerium für Wissenschaft und Kunst. Awarded by "kulturMut" - the crowdfunding platform of Aventis Foundation and Kulturfonds.