MUSCLES WITH THREE WOMEN

performance
FRI 01.12.2023
4:30pm — 6:30pm
Premiere
Künstler*innenhaus Mousonturm, Frankfurt
From the age of 12
Duration: approx. 120 minutes
Language: German spoken language with German and English subtitles
Mousonturm-coproduction world premiere
Note: The interactive video game experience does not require any prior computer (game) skills. Several participants operate the video game simultaneously using different controllers. Operating the individual controllers requires different motor skills (e.g. touching surfaces or balance). It is up to the participants to decide which controller to use. Sound accompanies the gameplay and can become loud at times. The visual stimuli can become intense. More details on possible triggers and potential barriers will be published on the Mousonturm website in due course.
Ticket needed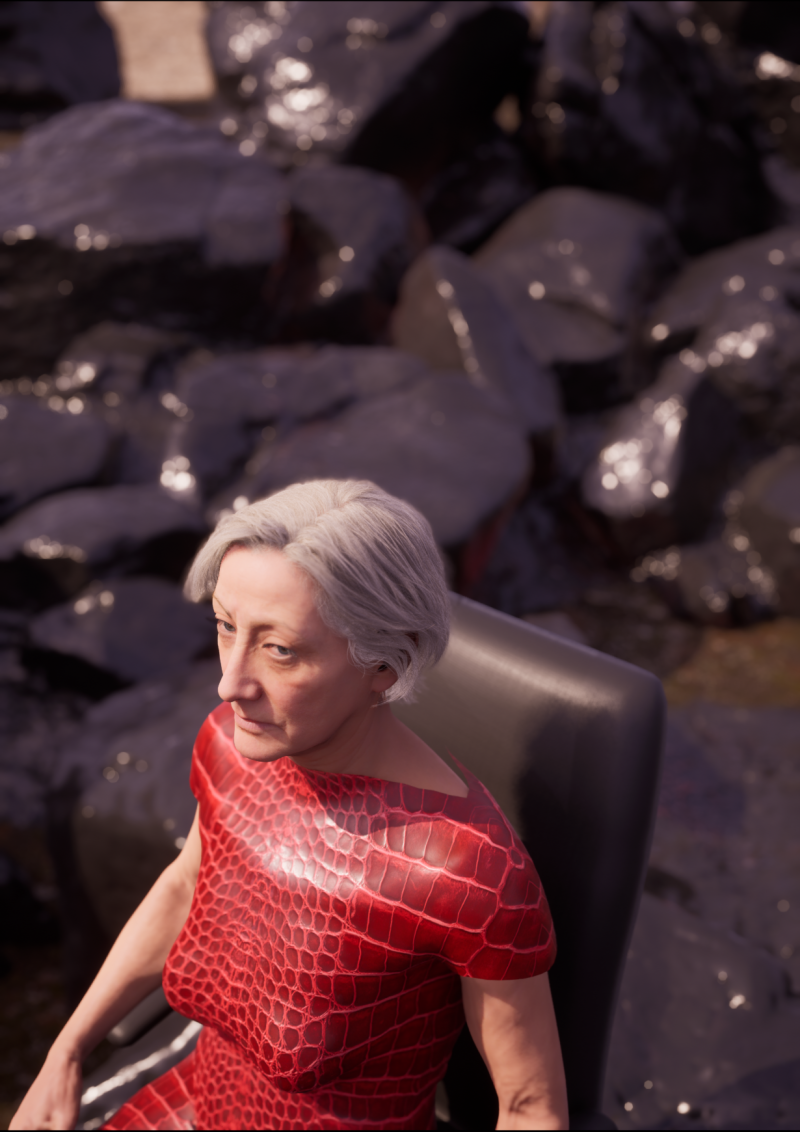 3D image of a woman with grey hair, wearing a red dress, seated in front of dark, shiny stones.
Caroline Creutzburg is a master of fantasy. Her explorations of biographical and historical contexts drift gently into playful and freely invented worlds, always with affectionate humour towards her characters, a fine sense of the profundity of apparent mundanities and curious towards the possibilities of new technologies. "Muscles with Three Women" invites the audience to a multiplayer video game installation that enters the animated worlds of three women who could not be more different: a heroine, a monster and a comedian. Each of them has her own movements and needs. The three women, their respective worlds and the audience are interlocked, interacting via extraordinary joysticks and sensors in the space. This way, the audience can try to steer the destinies of the three women anew every evening – even without prior computer (game) skills.
Caroline Creutzburg (Künstlerische Leitung, visuelle Gestaltung und Texte / Artistic Director, visual game design and texts)
Todor Stoyanov (Lead Technical Artist und Game Development)
Stine Hertel / Special Defect Department (Game Controller Design)
Wagehe Raufi (Raumgestaltung / Spacial Design)
Rupert Jaud (Sound Design)
Merthe Wulf (Technische Leitung / Technical Director)
Jeanne J. Eschert (Dramaturgie / Dramaturgy)
Alina Buschmann (Koordination Barrierefreiheit / Coordination Accessibility)
Christopher Krause (Koordination Öffentlichkeitsarbeit / Coordination Public Relations)
Nora Schneider (Künstlerische Produktionsleitung / Artistic Production Management)
Nikolas Stäudte (Produktionsassistenz und Vermittlungskonzept / Production Assistant and Communication Concept)
Roi Stoyanov (Intern Technical Art und Game Testing)
René Alejandro Huari Mateus (Outside Eye)
Janna Pinsker (Outside Eye)
"Muscles with Three Women" is a production by Caroline Creutzburg in co-production with Künstler*innenhaus Mousonturm Frankfurt. Funded by the Cultural Office of the City of Frankfurt am Main, the Fonds Darstellende Künste with funds from the Federal Government Commissioner for Culture and the Media as part of NEUSTART KULTUR, Hessen Film und Medien GmbH, the Aventis Foundation as part of experimente#digital and the Maecenia Foundation. Kindly supported by Zed Up Gaming PCs. With the kind support of the Aventis Foundation.
Further dates:
SAT 02.12. | 3:30pm

Künstler*innenhaus Mousonturm, Frankfurt

SAT 02.12. | 9:30pm

Künstler*innenhaus Mousonturm, Frankfurt

SUN 03.12. | 3:00pm

Künstler*innenhaus Mousonturm, Frankfurt

SUN 03.12. | 7:00pm

Künstler*innenhaus Mousonturm, Frankfurt

WED 06.12. | 4:00pm

Künstler*innenhaus Mousonturm, Frankfurt

WED 06.12. | 8:00pm

Künstler*innenhaus Mousonturm, Frankfurt

THU 07.12. | 4:00pm

Künstler*innenhaus Mousonturm, Frankfurt

THU 07.12. | 8:00pm

Künstler*innenhaus Mousonturm, Frankfurt