HOW I LEARNED TO LOVE

On the 9th, 10th, and 11th of December, we would like to share with you practices for rethinking "love" and explore together whether dance can also be a healing form of love at the Frankfurt LAB. To what extent can alternative, queer and postcolonial approaches to love be imagined through Pop Culture, traditional Peruvian and Argentine dance and music, and collectivity?
Dance/performance
FRI 09.12.2022
8:00pm — 9:00pm
Premiere
Frankfurt LAB, Schmidtstraße 12 60326 Frankfurt am Main
TICKETS
7 € / ermäßigt 5 €
Reservations: love.frankfurtlab@gmail.com
Suggested donation. No one will be turned away due to lack of funds.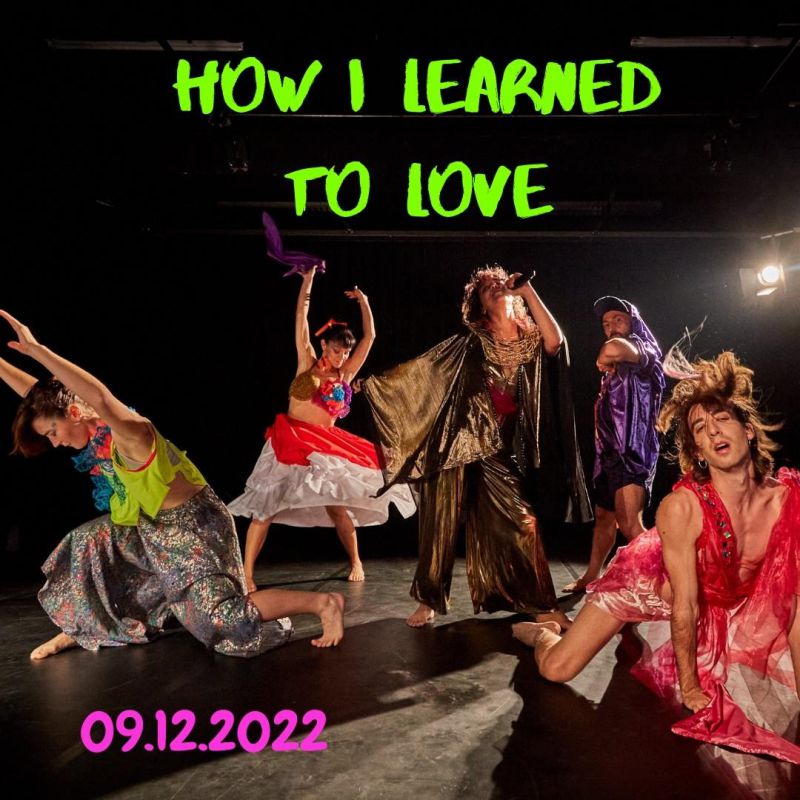 Photo: Jörg Baumann
For bell hooks, loving communities are built through friendships and extended families. To love is inherently a verb, an action. It means to "share together" - preferably something that is important to us. For us participants in "How I Learned to Love" this was music, food, dance and personal (hi)stories. We questioned different forms of love - platonic, romantic, familial, communal - and related them to our artistic practices. The result is a diasporic patchwork that, with its horizontal understanding of time and space, weaves together threads of personal, pop culture, and cultural heritage references, from Peru to (Eastern) Europe. The main ingredients of the evening are traditional Afro-Peruvian and Argentine partner dances passed down from generation to generation (because we need them to survive.) Their structure suggests the following actions: listen-respond, follow-lead, compete. To what extent can dance strengthen relationships between participants and spectators? Can it help us imagine new ways of engaging, and how can we use them to recognize each other and communicate our own boundaries? Can dance also be a healing form of love?
Performance include some Spanish, English, and German language with subtitles into German.
Concept and Direction: Amelia Uzategui Bonilla / Dancers and Performers: Frédéric De Carlo, Guillermo de la Chica López, Magdalena Dzeco, Luz Zenaida Hualpa García, Abril Lukac, Amelia Uzategui Bonilla, Natalia "SÍKARO" Rojas Azócar / Music Production: Natalia "SÍKARO" Rojas Azócar, Dario Aprea / Music Perfomance: Luz Zenaida Hualpa Garcia, Natalia "SÍKARO" Rojas Azócar, Mariano Sauco / Dramaturgy: Antonia Kelm / Dance Coach: Luz Zenaida Hualpa Garcia / Costume Design: Daniela Zambrano Almidón / Documentation & Videoediting: Mariana Brzostowski / Lighting: Ariana Battaglia
Research supported by Fonds Darstellende Künste with funds from the Federal Government Commissioner for Culture and Media within the program NEUSTART KULTUR #TakeHeart Residenz-förderung. Production funding by the Cultural Office of the City of Frankfurt am Main, the Hessian Ministry of Science and the Arts, and the Frauenreferat Frankfurt. Subsidised by the Frankfurt LAB - Emerging Artists Program 2022, with the kind support of the Crespo Foundation and the Stiftung Polytechnische Gesellschaft Frankfurt am Main as well as the BHF BANK Stiftung and the Adolf and Luisa Haeuser-Stiftung für Kunst- und Kulturpflege.
Further dates:
SAT 10.12. | 8:00pm

Frankfurt LAB, Schmidtstraße 12 60326 Frankfurt am Main

SUN 11.12. | 6:00pm

Frankfurt LAB, Schmidtstraße 12 60326 Frankfurt am Main