FRüHLINGS ERWACHEN
Dance theatre freely adapted from Frank Wedekind's stage play
Sex, sex, sex - everything around this one word interests and fascinates young people. What effects and influences does sex education have on the development of our personality and what can sexuality be?
dance theatre
THU 09.06.2022
8:00pm — 9:30pm
Premiere
Landungsbrücken Frankfurt
Ticket needed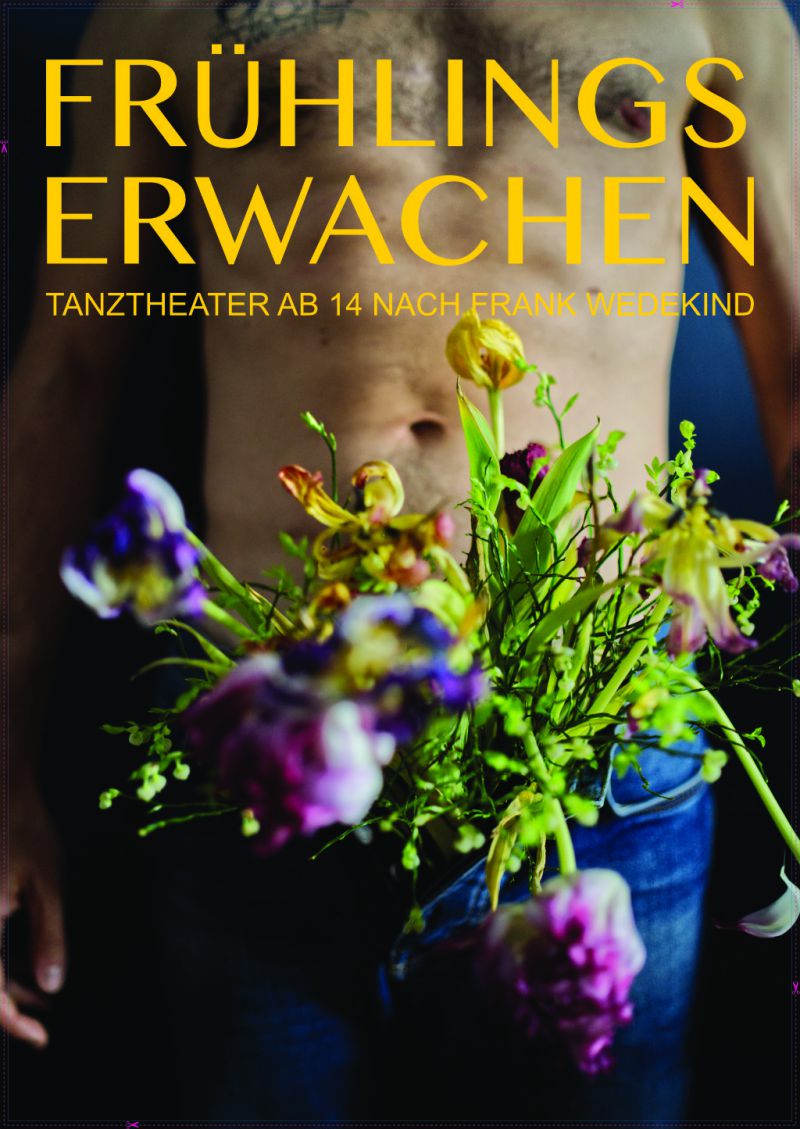 A man with a naked torso and blue jeans, pictured from the chest to the thighs. A colourful bouquet of flowers spills out of his trousers. Spring Awakening is written above it in large letter
Frank Wedekind's stage play Spring Awakening is over 100 years old and could not be more topical. The pitfalls of growing up are still great today. It seems we live in an over-sexualised society, yet it is becoming increasingly difficult to talk about sex, gender, sexual orientation, sexual education, physical pleasure and the first time. These topics are very sensitive, even stigmatised in some societies, and are treated with a lot of inhibition and caution.
When young people start to discover their sexual interest, they are often caught off guard by it and feel unprepared. The first time is often accompanied by concerns and fears and shapes their further development and relationship to sexuality. In this performance, we explore the question of why it is still taboo in our society to talk openly about sexuality, what effects and influences the sex education and sexual upbringing we receive at home has on the further development of our personality, and what would an optimal approach to the subject look like in the eyes of a young person today.
In a ping-pong between dance, play and language, we experience what sexuality can be, why it is all completely normal and why we need to talk openly about it.
Idea/Choreography/Performance: Katerina Vlasova and Amadeus Pawlica Costumes: Frederike Coors Dramaturgy: Mareike Uhl
Supported by the Cultural Office of the City of Frankfurt am Main, Hessian Ministry of Science and Art, NRW State Office for the Liberal Performing Arts, NRW Ministry of Art and Science, TakeHeart Research Grant, NEUSTART Kultur
Further dates:
SAT 11.06. | 8:00pm

Landungsbrücken Frankfurt

SUN 12.06. | 4:00pm

Landungsbrücken Frankfurt