FRANKFURT MOVES! ARTIST RESIDENCY
Workshop Presentation
Six international Frankfurt Moves! artists in residence have been invited to work at the Frankfurt LAB for one month. You are invited to a workshop presentation, where you will have the opportunity to see the current state of the projects and to meet the artists.
Dance, theatre, performance
SAT 14.10.2023
5:00pm
Premiere
Frankfurt am Main
Admission free Reservations: info@frankfurt-lab.de
Email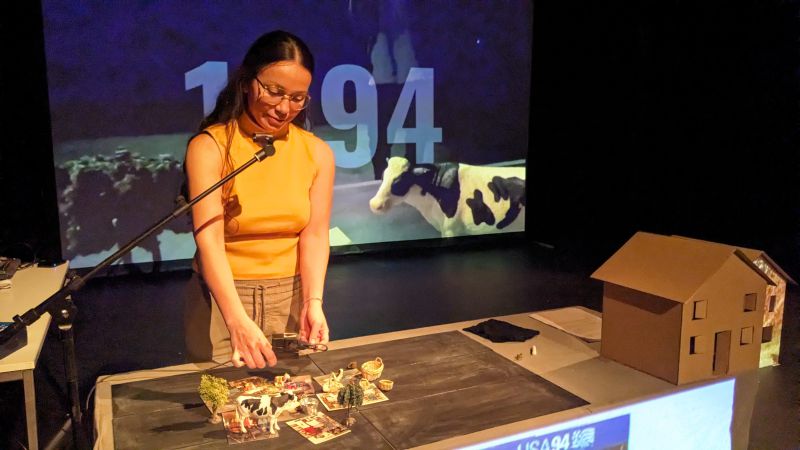 The Red Bridge 1994 by Omayra Martinez Garzon
Six international artists from the performing arts were invited by the Frankfurt Moves! artist residency programme to work for four weeks in Frankfurt. At the end of the residency, the artists open the doors to the rehearsal halls, to let you partake in their creations. Afterwards you have the chance to enter into a dialogue with the artists. The directors and actors Hana Abdelnabi and Hend Abu Hassanein from Gaza have collected oral histories by women, to bring their lives and concerns through the story-telling format Al-Hakawati onto the stage. The interdisciplinary artist Wezile Harmans takes the "broken telephone"-game as a starting point, to ask questions about belonging and exclusion as well as (informal) means of knowledge transfer. Who is talking and who is made to listen? Mehdi Dahkan, choreographer and dancer from Morocco, currently works on the solo piece "Subject To," which is part of a trilogy on the wish of young people to emigrate. What happens, if external immobility meets internal longing? Immigration is of interest to Omayra Martínez Garzón as well, both personally and as an artist: The performer and producer was forced to leave her home as a child. Using object theatre and video mapping, she investigates the individual and societal trauma of displacement and armed conflict in Colombia. The Vietnamese dancer and choreographer Trần Minh Hải tackles the subject of "truth," especially under conditions of state censorship and oppression. What do we believe and how can we stay true to our own truth?
Hana Abdelnabi & Hend Abu Hassanein (Palestine), Story-telling & Performance Mehdi Dahkan (Marocco), Dance & Performance Wezile Harmans (South Africa), Performance, Film & Installation Omayra Martínez Garzón (Colombia), Object-theatre & Videomapping Trần Minh Hải (Vietnam), Dance
"Frankfurt Moves!" is an initiative of the foundation KfW Stiftung aimed at promoting artistic exchange and intercultural dialogue. The residency programme in cooperation with the Frankfurt LAB supports international emerging artists in the performing arts.