F.I.M. FORMATIONEN+ DANCE
Improvised music interacting with improvised dance
Improvised music and dance at Gallus Theater
Dance/performance
TUE 03.05.2022
8:00pm — 11:00pm
Gallus Theater Frankfurt
The 2nd part of the evening is open for the participation of interested professional dancers - registration at the beginning of the event. Corona rule for spectators: Masks are compulsory for the entire event !
Ticket needed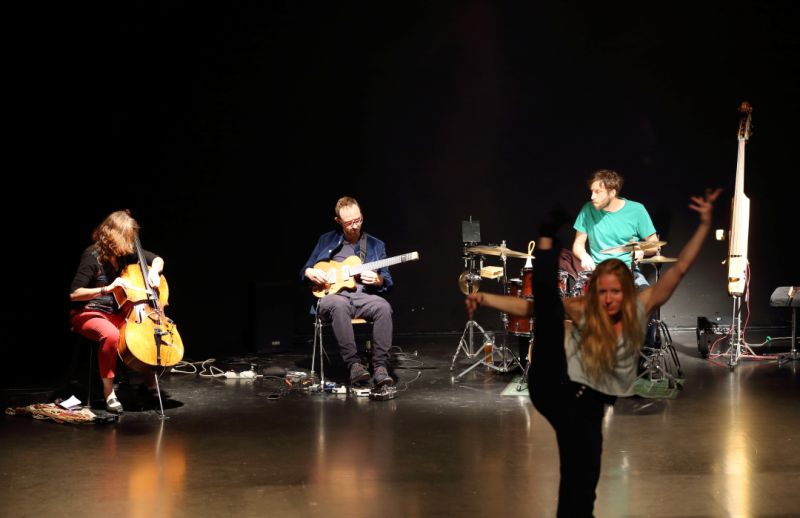 Dancer on a stage and three musicians in the background
Interactive real-time communication "Neues Podium - Improvisierte Musik und Tanz im Gallus Theater" at the Gallus Theatre. The Forum Improvised Music/F.I.M. Frankfurt, founded in the 1990s, sees itself as the pulse of improvised music in Frankfurt. Founded in the tradition of free jazz, the F.I.M. today integrates diverse forms of expression of free improvisation, such as new improvised music, electronic music, border areas to new music, and cross-genre improvised dance. Musical-dance interactions have already been implemented in the past at the annual F.I.M. Raumbespielungen in Frankfurt city centre. An event with a focus on improvised music + dance, was successfully held for the first time in 2021 at the Gallus Theatre. The interaction and communication of the musicians and dancers in the "real-time format" poses a special challenge for the participating artists. In the second edition of the format, professional musicians from the regional and national improvisation scene will interact with professional dancers from the Frankfurt dance scene and HfMDK in 5 formations. The second part of the evening is open to interested professional dancers. Registration at the beginning of the event.
Participating musicians and dancers PAUL HUBWEBER - POSAUNE OLIVER LEICHT - CLARINET, ALTSAXOPHONE JOSHUA WEITZEL - GUITAR, SHAMISEN SAVAS BAYRAK - SAXOPHONE GREGOR PRAML - BASS SIMON CAMATTA - DRUM BRITTA SCHÖNBRUNN - DANCE MARIA KOBZEVA - DANCE SONIA LAUTENBACHER, HFMDK - DANCE MARTA MAESTRELLI, HFMDK - DANCE EMANUELA VURRO, HFMDK - DANCE CLEMENTINE CLOUX, HFMDK - DANCE + GUEST MUSICIAN, if necessary. Possibly further dancers on-site.
Teilnehmende Musiker- u. Tänzer*innen PAUL HUBWEBER - POSAUNE OLIVER LEICHT - KLARINETTEN, ALTSAXOPHON JOSHUA WEITZEL - GITARRE, SHAMISEN SAVAS BAYRAK - SAXOPHON GREGOR PRAML - BASS SIMON CAMATTA - SCHLAGZEUG BRITTA SCHÖNBRUNN - TANZ MARIA KOBZEVA - TANZ SONIA LAUTENBACHER, HFMDK - TANZ MARTA MAESTRELLI, HFMDK - TANZ EMANUELA VURRO, HFMDK - TANZ CLEMENTINE CLOUX, HFMDK - TANZ + GASTMUSIKER, ggf. weitere Tänzer*innen bei Anmeldung Vor-Ort
Kulturamt Stadt Frankfurt am Main, Land Hessen