DARK MATTER

Dance/performance
FRI 10.02.2023
7:30pm — 9:00pm
Frankfurt LAB
Ticket needed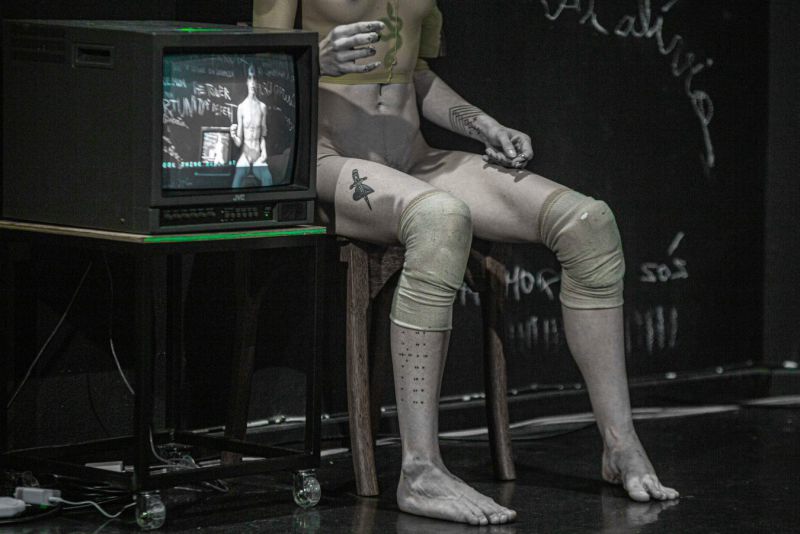 Cristiano Prim
*Text only available in German*
In der Kosmologie beschreibt dunkle Materie jene Form von Materie, deren Existenz nur durch die Wirkung ihrer Gravitation auf sichtbare Körper und Objekte nachgewiesen werden kann. In dem choreografischen Ereignis, das Cena 11 "Dark Matter" (dunkle Materie) nennt, formt sie als geheimes Symptom Systeme aus Muskeln, Skeletten und Emotionen – alles, was sich bewegt, birgt tänzerisches Potenzial. Angetrieben von intensiven Rhythmen, Licht- und Bildwelten überwinden die Punks der brasilianischen Tanz-Szene radikal Grenzen, indem sie den digitalen Raum als Natur, als eine natürliche Fortsetzung unserer gebrochenen, unvollkommenen Körper begreifen. Hochenergetisch entladen sich Bewegungen zwischen Organismen, Klängen und Pixeln. "Dark Matter" wird zeitgleich als europäische Erstaufführung live auf der Bühne und weltweit online im Stream stattfinden.
Conception, Artistic Direction and Choreography: Alejandro Ahmed Creation, Choreography and Performance: Alejandro Ahmed, Aline Blasius, Bianca Vieira, João Peralta, Karin Serafin, Kitty Katt, Luana Leite, Malu Rabelo, Natascha Zacheo Sound and Video Operation and Creation: Alejandro Ahmed and João Peralta Technical Direction: Grupo Cena 11 Light design: Irani Apolinário Sound and Broadcast Technician: Eduardo Serafin Production Direction: Karin Serafin Production Assistant: Malu Rabelo Movement Direction Assistant: Aline Blasius Sceno Technical Assistance: Adilso Machado Graphic Pieces: Luana Leite Photos: Cristiano Prim e Karin Serafin Translation: Kitty Katt and Marcos Morgado Technical Preparation: Aline Blasius, Kitty Katt and Alejandro Ahmed Technical- artistic development in Dark Matter 2019/2020 and Teaser for Phantom Future 2020: Hedra Rockenback Creation and programming of objects, instruments, and mechanisms for "Dark Matter": Diego de los Campos Plants for Scenography: Karin Serafin Texts: Grupo Cena 11 Technical – artistic dialogue for creating videos for "Dark Matter": PACT-UFSC (João Peralta, Rodrigo Garcez, Thiago R. Passos) "Dark Matter" Camera operation: Karin Serafin and João Peralta Drone operation: Alex Costa Co-production: Mousonturm, Tanzhaus NRW, PANORAMA RAFT, Instituto Goethe, Gabi Gonçalves, Corpo Rastreado – São Paulo, Something Great – Berlin Support: Program Artists in Residence Montevideo – Uruguai and "Prêmio Elisabete Anderle de Estímulo à Cultura" ⁄ 2019 edition Support for project development: EPEC-Capacitação e serviços para empreendedores criativos Headquarters and technical preparation: Jurerê Sports Center (JUSC)
Ein Projekt im Rahmen des Bündnisses internationaler Produktionshäuser, gefördert von der Beauftragten der Bundesregierung für Kultur und Medien "Claiming Common Spaces V" ist ein Projekt des Bündnisses internationaler Produktionshäuser, gefördert von der Beauftragten der Bundesregierung für Kultur und Medien.
Further dates:
SAT 11.02. | 7:30pm

Frankfurt LAB

SUN 12.02. | 4:00pm

Frankfurt LAB