CONSPIRATION
or on the power of breathing together
Performance Improvisation of twelve dancers/performers resulting from a research residency. Ticket entry: pay-as-you-wish. Reservation required.
Dance/performance
TUE 20.09.2022
6:30pm — 7:30pm
Premiere
Weihehalle der Unitarier (Fischerfeldstraße 16, Frankfurt am Main)
Reservations at kmjykmjy(at)gmail(dot)com
Please specify: Date AND time of performance, number of tickets requested, name, a valid mail address.
Ticket needed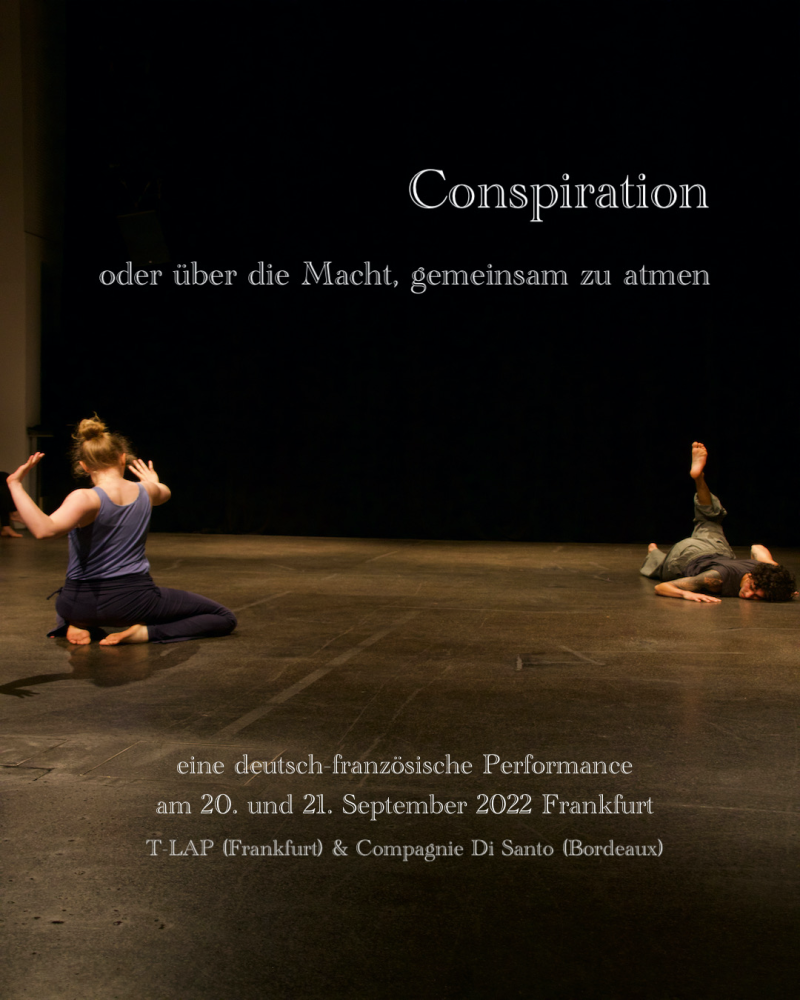 Community creates identity, a sense of belonging, promotes friendships and solidarity. Common themes create meaning, you discuss among like-minded people and develop a self-understanding as a group. Common practice and values strengthen the individual as well as the group and stand for a common "spirit" - one breathes together.... one feels the special spirit of community! But what changes when a group comes to the realization that the common goals do not remain only the object of the group but should be brought into the "world" in the sense of a "greater whole". What happens when the realization is attempted by using all possible means? When does the community cause become a conspiracy theory? Twelve essays form the basis for personal responses by a young group of artists on a temporary basis. Using performance working methods, the participants experiment with artistic forms of expression. After a three-week residency together, the group of performers will present excerpts of their experiments through dance, theater and music.
By and with: Joana Millet Arias, Enora Lise Bär, Lydia Bendali, Diane Didenko, Brieuc Guinard, Anica Haubrich, Manon Jacquelin, Benedykt Król, Laure Le Franc, Julie Peters, Hannah Söffing, Ewelina Zielonka
Artistic Direction: Jungyeon Kim and Ferenc Kréti
The event is part of the Franco-German Performance Workshop project - a bilateral project initiated by the interdisciplinary theater initiative T-LAP (Frankfurt) and the Compagnie Di Santo (Bordeaux), supported by the Hessian Ministry of Science and Art, the Franco-German Youth Office (DFJW/OFAJ) and the Cultural Office of the City of Frankfurt am Main.
Further dates:
TUE 20.09. | 8:30pm

Weihehalle der Unitarier (Fischerfeldstraße 16, Frankfurt am Main)

WED 21.09. | 6:30pm

Weihehalle der Unitarier (Fischerfeldstraße 16, Frankfurt am Main)

WED 21.09. | 8:30pm

Weihehalle der Unitarier (Fischerfeldstraße 16, Frankfurt am Main)