CELEBRATE THE BODY
an online dance class
An improvisation and Afro-Peruvian techniques-based dance class for ALL BODIES, especially welcoming BIQTPOC identities. Each online session ends with time for conversation and exchange.
class
Zoom
Amelia Uzategui Bonilla (she/they) is a lifelong dancer, receiving a BFA in Dance from Juilliard with Scholastic Distinction, Tamalpa Life/Art Process Certification, and an MA in Contemporary Dance Education at the HfMDK. They currently curate, choreograph and teach with decolonial, anti-racist and transdisciplinary approaches. Her dance classes combine knowledge from research in traditional, somatic and contemporary dance forms in Peru, the United States, and Europe.
Registration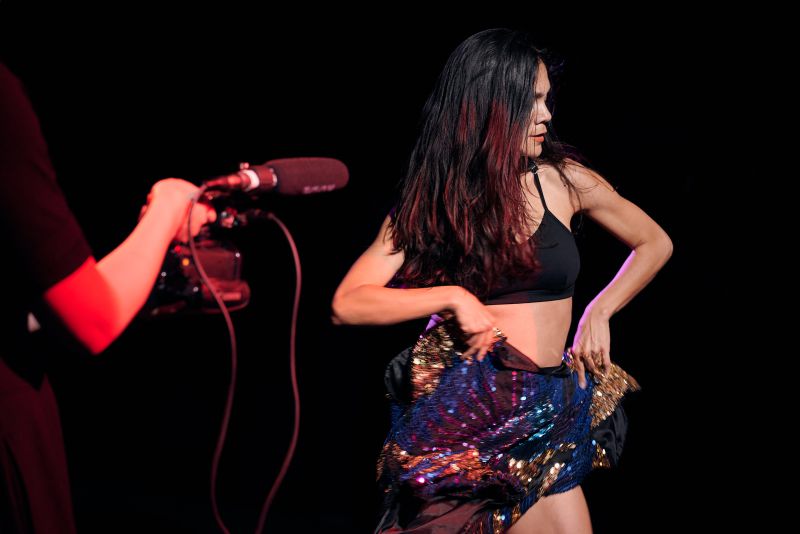 [Image Description] A person with long black hair looks dramatically to the side and walks forward with hands at the hip while a camera and microphone capture their movements. Photography: Da
Festejo, an Afro-Peruvian dance I engaged with since childhood, was cultivated and passed down by generations of Afro-Peruvian musicians and dancers. It was taught to me in choreographies, but it's history and social practice is based in improvisation. As a dance that was re-interpreted in the Afro-Peruvian cultural revival movement of the 1970's, what interests me the most is the intention of remembering and honoring the body, recognizing its physical capacity to heal, rejuvenate, and communicate.
This class starts with slow movements and builds up to engage with fast and infectious rhythms encouraging agility and dynamic diversity, between the waves of the ocean and the directness needed to communicate clearly with the body.
Open to all levels of movement experience.