BOOM!*HAPP(E)NING
Dance improvisation
Dance/performance
SAT 05.11.2022
7:30pm — 8:30pm
Wartburg Wiesbaden
PINK and BLAU are Mareike Buchmann and Lena Kunz. In our joint projects we develop concepts that advocate for more visibility of contemporary dance and performance. We both live in Wiesbaden. Mareike is a freelance dancer, performer and movement researcher. She produces her own pieces and will lead the ensemble IDA FLUX in the future. Lena and is a performer, dramaturge and lecturer in dance history. She will be a member of the ensemble IDA FLUX in the future.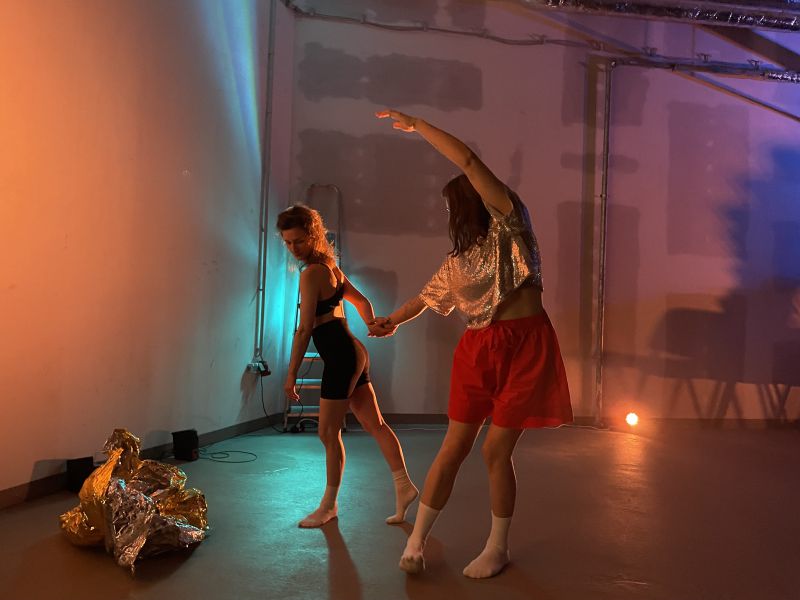 Foto: Pink&Blau
PINK & BLAU redefine dance improvisation, happening and Fluxus. Or: What do we care about pigeonholes and terms! The process is the performance. The desire is the preparation. The floor is our trust. We take space, we create space, we give ourselves space. As part of the Tanztag Rhein-Main, you will be part of the Boom!*happ(e)NINGS.
Be curious! Boom! Boom! Happy! Yeah! Bring curiosity.
by and with: Mareike Buchmann and Lena Kunz