WONDERLAND
a dance performance for everyone from the age of 11
Fortnite, Super Mario, TikTok and co meet urban and contemporary dance. In between, the story of "Alice in Wonderland" flashes up again and again. 10 students are on stage on an equal footing with the professionals.
Dance
THU 19.05.2022
5:00pm — 6:00pm
Zoo-Gesellschaftshaus Frankfurt
Ticket needed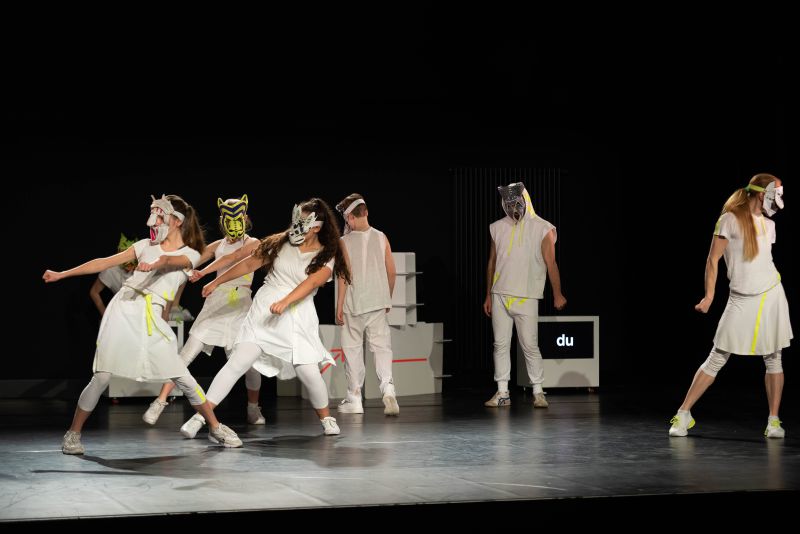 6 young people in white costumes moving in groups and seperate from each other on a dark stage
In "WONDERLAND", the Frankfurt choreographer Célestine Hennermann, together with four dancers from contemporary and urban dance, encounters the thoughts, desires, fantasies, utopias of pupils at the transition to puberty, whom she invites onto the stage. Viral dances and movements from the world of computer games (e.g. Fortnite, Super Mario) and social media are translated into the real search of young people for their own identity and belonging. The story of "Alice in Wonderland" runs like a delicate thread through the piece. Alice's search for her own ever-changing self and for the direction she should take is also of central importance for many adolescents. The wonderment of who one actually is and who one wants to be is reflected in the young people's acceptance and rejection of peers, family, school and media role models. The special feature of the production is the work directly with the target group. 10 young people are part of the production and are on stage on an equal footing with the professionals.
CHOREOGRAPHY Célestine Hennermann | DANCE Jonas Frey, Albi Gika, Victoria Söntgen, Katharina Wiedenhofer with the pupils: Linda Bamberger, Naima Blancke, Leon Gacheru, Nuria Hartenstein, Flora Imbescheidt, Maxime Leuz, Lina Mungiuri, Anna Pelz, Jonathan Wiedenhofer, Lea Wiedenhofer | DRAMATURGY Ilana Reynolds | STAGE & COSTUME Nathalie Meyer | VIDEO/LIGHTING/SOUND-COLLAGE Gregor Knüppel | MUSIC Richard Oberscheven | PRODUCTION Lucia Primavera | MANAGEMENT Alexandra Schmidt | PICTURES Daniel Blattmann
Funded by: TANZLAND - Fonds für Gastspielkooperationen is an initiative of the Federal Cultural Foundation in the project sponsorship of the Dachverband Tanz Deutschland. Co-produced by EISFABRIK Hannover. Further supporters: Cultural Office of the City of Frankfurt am Main, Hessian Ministry of Science and Art, Cultural Office of the City of Hanover, City of Eschborn and Volksbühne im Großen Hirschgraben.