WINTERTANZPROJEKT 2023
Blick zurück nach vorn
other
FRI 10.02.2023
8:00pm — 10:00pm
Premiere
Gallus Theater Kleyerstr. 15 60326 Frankfurt a.M.
TRACES
Accompanying the performance series, an exhibition with sketches of choreographies and objects from projects by Dieter Heitkamp from the last 24 years will be on display in the foyer of the Gallus Theatre.
Ticket needed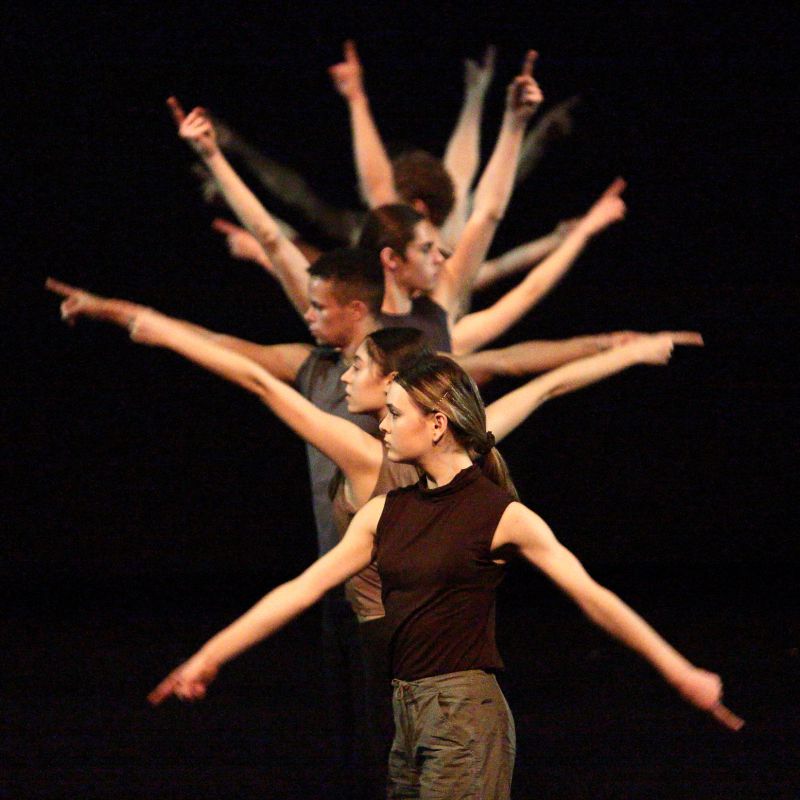 The Winter Dance Project 2023 looks back to the future. 19 alumni/alumnae of the dance department have responded to a call for proposals by Dieter Heitkamp: "Dances as long as Pop Songs" (max. 5 min long). They will work with current BAtanz students on solos, duets, trios, a quintet, group pieces for individual years, pieces for 2 years together and a score for all students in 15 hours each in the winter semester 2022/23. It will be a very special edition of the winter dance project to bid farewell to Prof. Dieter Heitkamp, who will retire in February 2023 after 24 years as head of the dance department at the HfMDK. The participating choreographers are: Paula Rosolen, Laurin Thomas & Ida Kaufmann, Victoria Söntgen & Kristina Veit, Eva Baumann, Lucyna Zwolinska, Gabriel Galindez Cruz, Maria Kobzeva, Marika Ostrowska Geiger, Richard Oberscheven, Chris Jäger, Andres Garcia Martinez, David Bloom, Sade Mamedova, Anton Valdbauer, Ramon John, Zaida Ballesteros Parejo and Norbert Pape. The aesthetic diversity that has always distinguished the dance department's performance series is also evident in this programme. The educational goal of supporting individual dancer personalities in their development is also evident in the individual paths and working methods of the alumni/alumnae. Looking back to the future also shows the influence and significance the HfMDK dance department has had on the development of the independent dance scene in Frankfurt and the region in collaboration with the MA Contemporary Dance Education of the HfMDK and the MA Choreography and Performance of the Justus Liebig University Giessen.
Eine Veranstaltung mit Studierenden des Studiengangs BAtanz der Hochschule für Musik und Darstellende Kunst Frankfurt am Main mit Unterstützung der Hessischen Theaterakademie und der Gesellschaft der Freunde und Förderer der HfMDK
Further dates:
SAT 11.02. | 8:00pm

Gallus Theater Kleyerstr. 15 60326 Frankfurt a.M.

SUN 12.02. | 6:00pm

Gallus Theater Kleyerstr. 15 60326 Frankfurt a.M.