TANZTAG RHEIN-MAIN | TANZFESTIVAL RHEIN-MAIN

Tanztag Rhein-Main offers the opportunity to experience the dance diversity of the region in over 130 workshops. There is something for all levels and physical conditions.
workshop
SAT 05.11.2022
10:00am — 7:00pm
Rhein-Main Gebiet
Offers in: Bad Homburg, Darmstadt, Frankfurt, Hanau, Langen, Wiesbaden no registration necessary! Pay as you wish: This year, too, you determine the price for your participation yourself.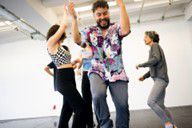 Celebrate the 10th edition with us! We are pleased to announce that Tanztag is celebrating its 10th edition and will take place again this year as part of the Tanzfestival Rhein-Main on 5 November 2022. In its tenth edition, Tanztag Rhein-Main is once again a unique event in Germany. Countless dance professionals and movement experts share their knowledge and enthusiasm for the diverse forms of expression of the body in the dance courses to try out. Especially after the extremely challenging 2 years of the pandemic, which determined our lives and the existence of many dance providers, we would like to thank you for your great commitment and generosity as well as our sponsors and all dance schools, associations and partner institutions. The Rhine-Main region is culturally a very diverse region, which is made clear by Tanztag and all its participants. On this day, people of all ages, different origins and physical conditions come together to share the joy of dancing with us. We are looking forward to an energetic day. Dance with us!