SOILED | TANZFESTIVAL RHEIN-MAIN

A celebration of the body's playful proximity to the ground. Permeable and impure, it resists straightforwardness and productivity in search of a new community.
Dance/performance
THU 10.11.2022
7:30pm — 8:40pm
Frankfurt LAB - Halle 1
Thu. 10.11. & Fri. 11.11. with audio description in English, 18.30 - 19 h there is a Touch Tour in German. Touch tours include an introduction to the stage and play for visually impaired audience members, including fabric samples of the costumes, a walk through the stage setting and a description of the visual elements. Registration at: barrierefreiheit@mousonturm.de
The piece contains scenes of explicit nudity.
Ticket needed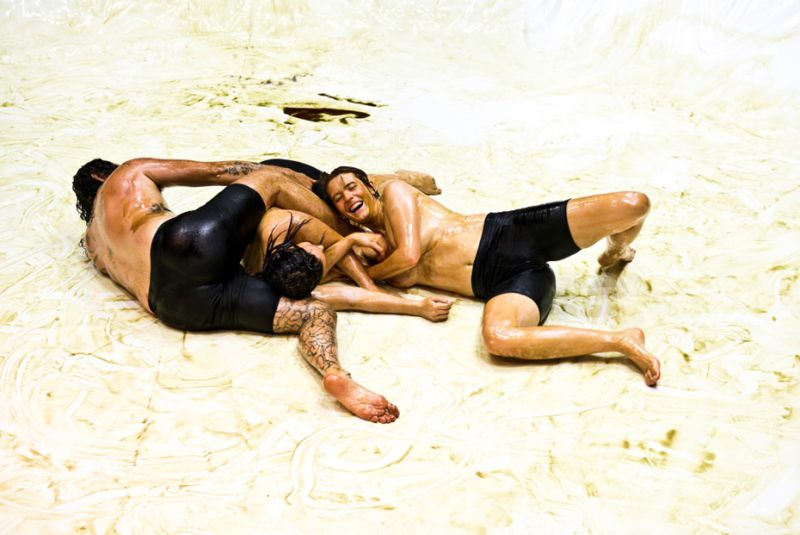 Dirty, landed on the ground and at the same time longing for the origin in the water. Hatched and slippery, sunbeams tickle the belly. What might it mean to glimpse the preciousness of life in those "lower" layers of experience sealed beneath the concrete of civilisation? Following on from his own personal experiences of shared, playful closeness to the ground, which are linked to his physical disability, Michael Turinsky's new work "Soiled" sketches out a utopia of the human against the backdrop of the Anthropocene, which gives the upright, civilised straightforward, aseptic, clearly demarcated, endlessly productive and precisely in this endlessly destructive body a body that is close to the ground, a body that is close to the ground, cyclical, pulsating, metabolic, permeable, impure, and asserts this very body as a profoundly human body - a body that savours its own organicity with relish, a body that dives into the dark pool of early memories and draws from it the unifying milieu of a burgeoning new community. "Soiled" opens up an imaginative space that does not deny a presence of horror and yet preserves the dissolving images of the past in the emerging contours of a joyfully inhabitable future.
Choreografie: Michael Turinsky Performer*innen, choreografische Mitarbeit: David Bloom, Sophia Neises, Liv Schellander Musik: Tian Rotteveel Audiodeskription: Monique Smith- McDowell Bühne, Kostüm: Jenny Schleif Licht, Technische Leitung: Benjamin Maier Dramaturgische Beratung: Gabrielle Cram Creative Collaborator: Tanja Erhart Produktion: Anna Gräsel
Eine Produktion von Michael Turinsky / Verein für philosophische Praxis, in Koproduktion mit Kampnagel Hamburg, Tanzquartier Wien, HAU Hebbel am Ufer, PACT Zollverein Essen, Künstler*innenhaus Mousonturm und Hessischem Staatsballett im Rahmen der Tanzplattform Rhein-Main, unterstützt durch die Stadt Wien.