PROFESSIONAL TRAINING TANZPLATTFORM RHEIN-MAIN
with Verena Kutschera
The class starts with a warm-up. Together we explore the technical principles of floor work to gain more freedom of movement and awareness of our own movement potential. This is followed by a physical endurance phase that focuses on improvisation exercises and movement patterns and combinations. The class ends with a cool-down. The training thus forms an innovative basis for improvisation. It draws on inspirations such as Spiral Dynamics, Flying Low (David Zambrano) and Release Technique to move efficiently and with ease in and on the floor.
technique class
MON 23.05.2022
10:00am — 11:30am
Künstlerhaus Mousonturm - Probebühne 3
The training room can be used from 09:30 for registration and an independent warm-up. The training starts punctually at 10 am.
For students of BATanz, MACoDE and MACuP the participation is free of charge
Day ticket: 6 Euro
10 ticktes: 35 Euro
There will be no training on Thursday (26th of May 2022) (public holiday).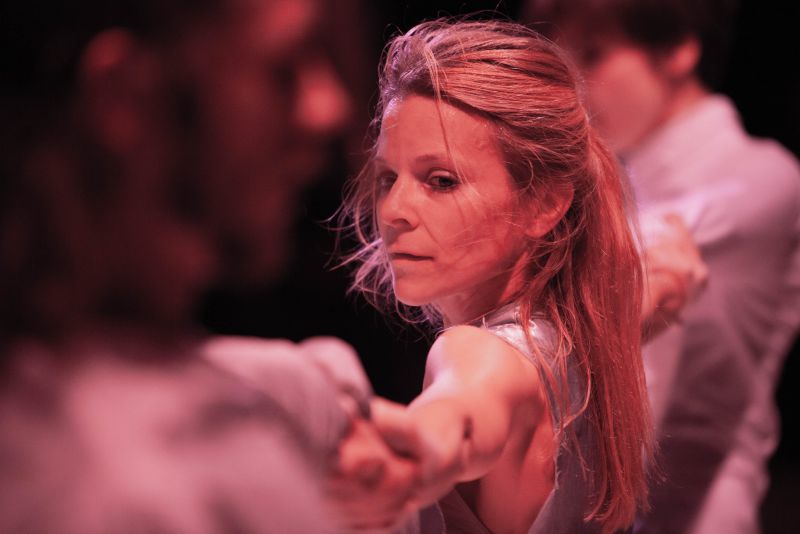 Verena dancing, she has her hair half open and her arms stretched away from herself
The professional training of the Tanzplattform Rhein-Main is aimed at professionally active dance practitioners (dancers, choreographers, dance teachers and dance students).
© Rafael Hernandez
© Tanzplattform Rhein-Main, a project of Künstlerhaus Mousonturm and Hessisches Staatsballett, is made possible by Kulturfonds Frankfurt RheinMain and supported by the Cultural Office of the City of Frankfurt am Main, the Hessian Ministry of Science and the Arts and the Foundation Alliance [Aventis Foundation, BHF BANK Foundation, Crespo Foundation, Hans Erich and Marie Elfriede Dotter Foundation, Dr. Marschner Foundation, Stiftung Polytechnische Gesellschaft Frankfurt am Main].
Further dates:
TUE 24.05. | 10:00am

Künstlerhaus Mousonturm - Probebühne 3

WED 25.05. | 10:00am

Künstlerhaus Mousonturm - Probebühne 3

FRI 27.05. | 10:00am

Künstlerhaus Mousonturm - Probebühne 3