PINK UNICORNS | TANZFESTIVAL RHEIN-MAIN

Experience meets youthful desire for freedom. Pink Unicorns tells a wild and humorous story about the not always easy relationship between the generations.
Dance/performance
SAT 29.10.2022
6:00pm — 7:00pm
Gallus Theater
Small talk after the performance on Saturday, 29.10. Warm-up for audience on Sunday, 30.10. at 5:30 p.m. For all from 10 years onwards.
Ticket needed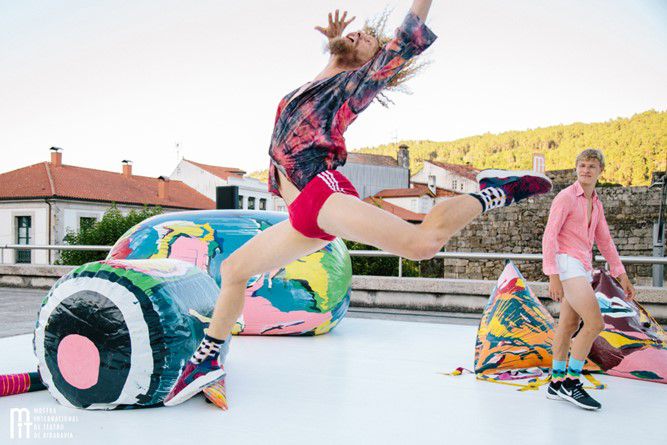 "The lock screen on my son's phone is a pink unicorn. When I was a teenager, I stayed away from anything pink. I had never heard of unicorns, mobile phones didn't exist." Cuban-born dancer Alexis Fernández joins his son on stage in "Pink Unicorns". Experience meets youthful desire for freedom in playful rivalry. Supposed serenity is questioned with curiosity between colourful cushions of air. Father and son become sparring partners. The joint work of the La Macana collective, consisting of Alexis Fernández and the choreographer, dancer and producer Caterina Varela as well as the choreographer Samir Akika, in-house choreographer at the Bremen Theatre, is about the not always easy relationship between the generations. Father and son let the audience look into a wild and humorous mirror - whether fathers, mothers, sons, daughters, we all find a smiling moment for ourselves again.
Development: Caterina Varela, Samir Akika, Alexis Fernández Dance: Alexis Fernández, Paulo Fernández Lighting design: Afonso Castro Stage: Tilo Schreieck Production: Caterina Varela
Eine Produktion von La Macana, in Koproduktion mit AGADIC, Theater im Pumpenhaus Münster und Theater Bremen. Das Gastspiel unterstützt durch die Generaldirektorin für Bücher und Leseförderung (Spanisches Ministerium für Kultur und Sport) sowie durch einen Zuschuss durch die Acción Cultural Española (AC/E), einer staatlichen Agentur, im Rahmen von "Spanien – Sprühende Kreativität. Ehrengast der Frankfurter Buchmesse 2022". In Kooperation mit dem Gallus Theater.