NIGHT OF DANCE VOL. II

"Night of Dance" is a collaboration between Protagon e.V. and ID_Tanzhaus FRM as part of the Sommerwerft Festival.
Dance, Dance/performance
MON 31.07.2023
9:00pm — 11:00pm
Sommerwerft Festival - Weseler Werft - 60314 Frankfurt am Main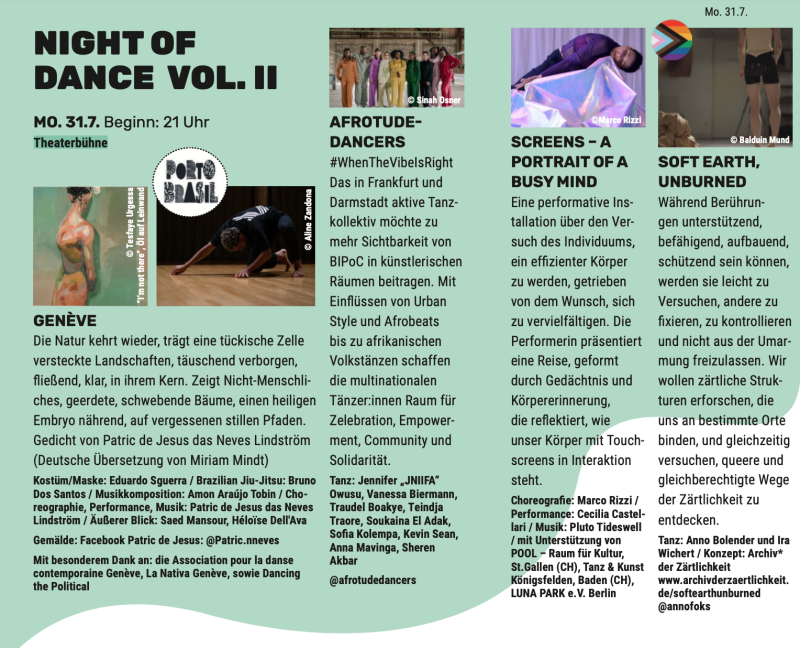 NIGHT OF DANCE VOL. II
Program:
GENÈVE: Patric de Jesus das Neves Lindström
#WhenTheVibeIsRight: Afrotude-dancers / Jennifer "JNIIFA" Owusu
SCREENS – A PORTRAIT OF A BUSY MIND: Marco Rizzi
SOFT EARTH, UNBURNED: Anno Bolender und Ira Wichert / Archiv* der Zärtlichkeit
Gefördert von Hessisches Ministerium für Wissenschaft und Kunst, Kulturamt Stadt Frankfurt am Main, Kulturfonds Frankfurt Rhein-Main, der Beauftragte der Bundesregierung für Kultur und Medien, Neu Start Kultur, Initiative Musik GmbH, Fundacja Współpracy Polsko-Niemieckiej - Stiftung für deutsch-polnische Zusammenarbeit.