NIGHT OF DANCE VOL. I

"Night of Dance" is a collaboration between Protagon e.V. and ID_Tanzhaus FRM as part of the Sommerwerft Festival.
Dance, site-specific performance, Dance/performance
MON 24.07.2023
8:30pm — 11:00pm
Sommerwerft Festival - Weseler Werft 60314 Frankfurt am Main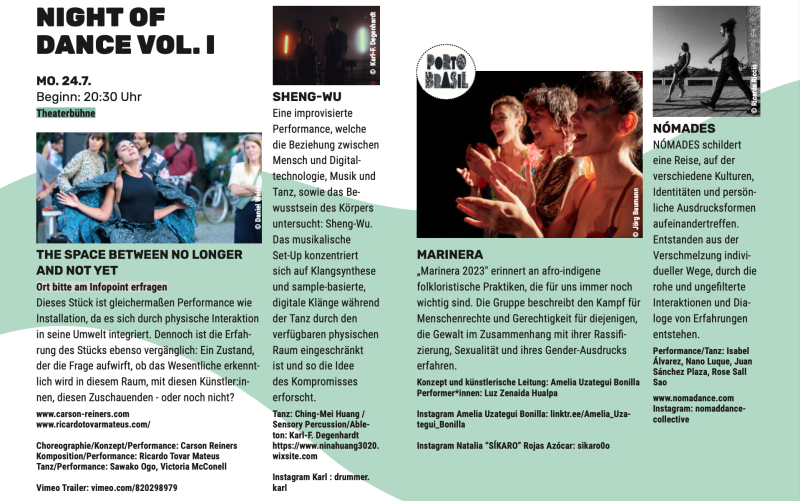 NIGHT OF DANCE VOL. I
Program:
THE SPACE BETWEEN NO LONGER AND NOT YET: Carson Reiners
SHENG-WU: Ching-Mei Huang and Karl-F. Degenhardt
MARINERA: Amelia Uzategui Bonilla
NÓMADES: Nomad Dance Collective
Gefördert von Hessisches Ministerium für Wissenschaft und Kunst, Kulturamt Stadt Frankfurt am Main, Kulturfonds Frankfurt Rhein-Main, der Beauftragte der Bundesregierung für Kultur und Medien, Neu Start Kultur, Initiative Musik GmbH, Fundacja Współpracy Polsko-Niemieckiej - Stiftung für deutsch-polnische Zusammenarbeit.