LIVING NOISE
Site-specific musical theater in Zickzackhausen
"Living noise - a site-specific music theater in Zickzackhausen" by the Untere Reklamationsbehörde takes an acoustic look at the Bruchfeldsiedlung. With performative-musical interventions around the historic Ernst-May-Siedlung, the collective invites visitors to discover the place and asks what remains of the residential utopia in today's everyday life.
site-specific performance
SAT 03.09.2022
6:00pm — 7:30pm
Premiere
Endhaltestelle Haardtwaldplatz, Zick-Zack-Hausen, Bruchfeldsiedlung FFM Niederrad
The performance takes place mobile in the settlement area. The meeting point is the Haardtwaldplatz terminus. Discounted tickets are available for residents upon request: untere.reklamationsbehoerde@gmail.com Languages: German/English
Ticket needed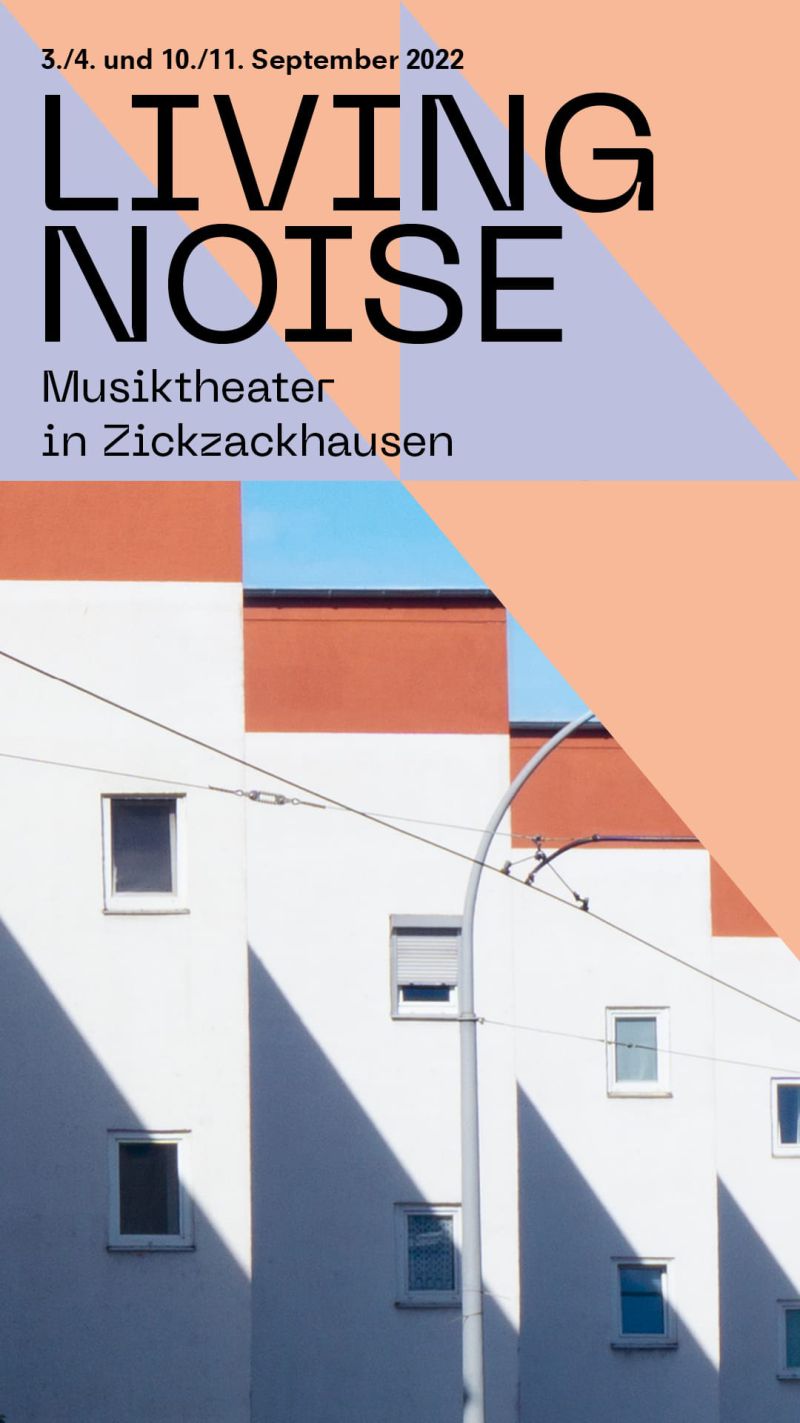 Living Noise
Bruchfeldsiedlung, Niederrad, summer 2022: Here, where the streetcars make an extra lap around the terminals, where the tower of the waste incineration plant towers over all the roofs on the other side of the Main, and where a social housing development with utopian aspirations was once built almost 100 years ago, the Untere Reklamationsbehörde (Lower Complaints Authority) takes an acoustic look at the still existing housing estate "Zickzackhausen".
With performative-musical interventions around the settlement, the Untere Reklamationsbehörde questions what remains of the housing utopia in the Ernst May settlement in today's everyday life. What ways of subversive repurposing can be found in the settlement? How much potential for noise has crept in? Who owns the place? Who animates it? Where does this urban landscape begin and where does its horizon end? And: Where do we find personal stories between uniform doorbell signs? Using found sounds and stories, live electronic compositions, as well as live music pieces for violin and percussion, in living noise two performers and two musicians guide us through the settlement with a playful eye and discover together with the audience otherwise rather inconspicuous places as surprising sound spaces.
BY and WITH : Maria Huber and Julia Mihály aka Untere Reklamationsbehörde (concept, composition, dramaturgy) Alice Nogueira and ASJA (performance, texts) Yuka Ohta and Diego Ramos Rodríguez (percussion, violin) Tobias Hagedorn (technical direction) Alexander Reiff (technical assistance) Formfellows (graphic design and carriage design)
The project is supported by the Cultural Office of the City of Frankfurt am Main, the Hessian Ministry of Science and Art, and the Sparkassen-Kulturstiftung Hessen-Thüringen. Cooperation partners are the Frankfurter Gesellschaft für Neue Musik fgnm e.V. and the ernst may gesellschaft e.V.
Further dates:
SUN 04.09. | 3:00pm

Endhaltestelle Haardtwaldplatz, Zick-Zack-Hausen, Bruchfeldsiedlung FFM Niederrad

SAT 10.09. | 11:00am

Endhaltestelle Haardtwaldplatz, Zick-Zack-Hausen, Bruchfeldsiedlung FFM Niederrad

SUN 11.09. | 3:00pm

Endhaltestelle Haardtwaldplatz, Zick-Zack-Hausen, Bruchfeldsiedlung FFM Niederrad