[K] 1 ZIMMER WOHNUNG
Political music theatre in the mayhaus
[K] 1 Zimmer Wohnung - Political, sitespecific music theatre in the historic premises of the mayhaus How can we insert a FLINTA* perspective onto the problems and utopia of housing and cohabitation, how can we not only occupy but procreate and assert female* living spaces? In collaboration with SHE Choir FFM and ernst-may-gesellschaft e.V. u.a.
audio-walk, theatre, performance, site-specific performance, other, Concert, Talk and Discussion, technique class
SAT 03.06.2023
2:30pm — 4:00pm
Premiere
Treffpunkt: Forum Neues Frankfurt, Hadrianstraße 5, 60439 FFM - anschließend Performance im mayhaus sitespecific
Meeting place is the Forum Neues Frankfurt: Hadrianstraße 5, 60439 FFM. The historic venue, the mayhaus, is not barrier-free. The shows will be performed in a mixture of German/English, translation of important texts is available. In addition, a critical discussion of the play is planned for June 10th from 18:15 on. We kindly ask you to register in advance at: untere.reklamationsbehoerde@gmail.com.
Ticket needed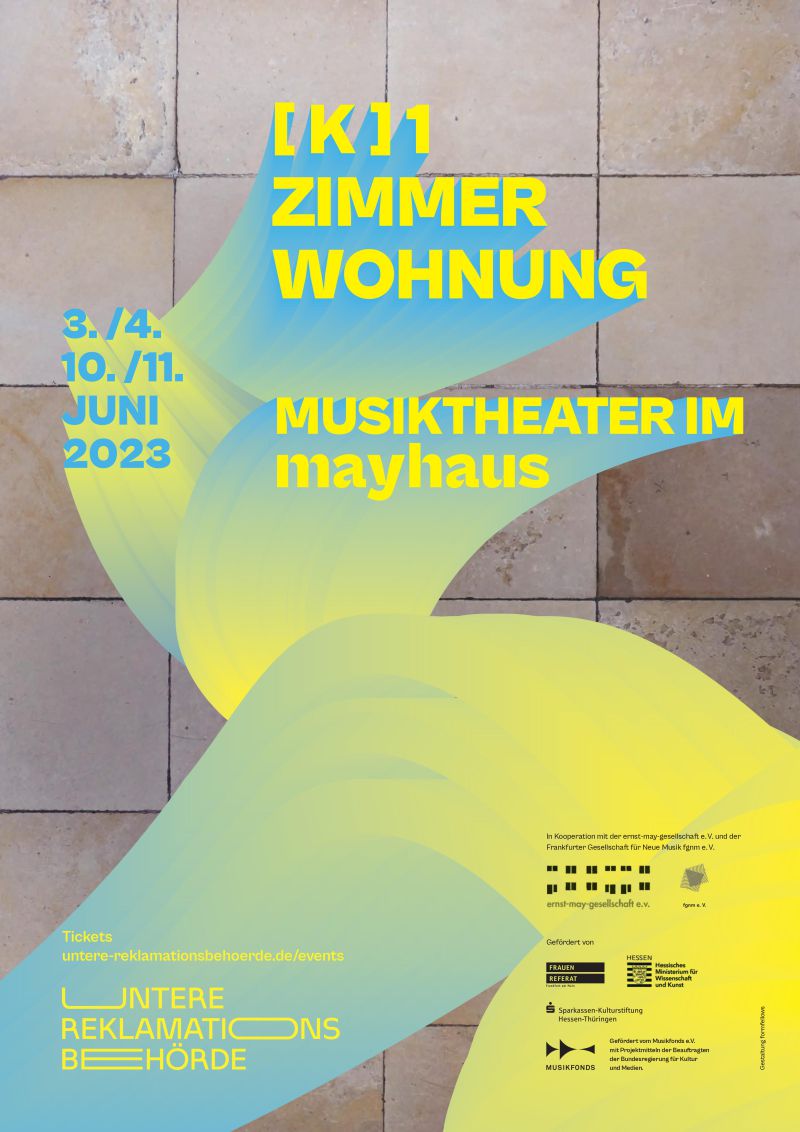 Poster [K] 1 Zimmer Wohnung [Back: Bathroom Tiles, Front: Word-Art from Title + Info]
In the premises of the mayhaus, "[K]1 Zimmer Wohnung" poses the artistic research question: How can we occupy and assert living space from a FLINTA* perspective? Because: architecture is not only "built space", but also always includes the relationship between space and society. It reproduces forms of social power structures, gender hierarchies and interpersonal networks.
In collaboration with the SheChoir Frankfurt, live electronic music and site-specific performance, Untere Reklamationsbehörde gives voice to current and historical feminist perspectives on housing, geographies of everyday life, housing shortages and squatting. What do the first minutes of my working day sound like? What sounds do I fall asleep to? Can I listen to my neighbour's everyday life? To what songs in the ear do we perform care work? What does the echo of loneliness sound like? How do I occupy living space?
Artistic direction: Maria Huber & Julia Mihály
Dramaturgy: Maria Huber Composition: Julia Mihály
Choir: SHE Choir Frankfurt
Performance and Development: Amelie Haller, Alice Nogueira
Musicians: Despina Apostolou (MIDI-Keyboard), Julia Mihály (E-Guitar)
Graphics: Formfellows Büro für Kommunikationsdesign
In Kooperation mit: der ernst-may-gesellschaft e.V., der Gesellschaft für Neue Musik fgnm e.V. und dem SHE Choir FFM Gefördert durch das Frauenreferat der Stadt Frankfurt, den Musikfonds e.V., sowie dem Hessischen Ministerium für Wissenschaft und Kunst
Further dates:
SAT 03.06. | 4:30pm

Treffpunkt: Forum Neues Frankfurt, Hadrianstraße 5, 60439 FFM - anschließend Performance im mayhaus sitespecific

SUN 04.06. | 1:30pm

Treffpunkt: Forum Neues Frankfurt, Hadrianstraße 5, 60439 FFM - anschließend Performance im mayhaus sitespecific

SUN 04.06. | 3:30pm

Treffpunkt: Forum Neues Frankfurt, Hadrianstraße 5, 60439 FFM - anschließend Performance im mayhaus sitespecific

SUN 04.06. | 5:30pm

Treffpunkt: Forum Neues Frankfurt, Hadrianstraße 5, 60439 FFM - anschließend Performance im mayhaus sitespecific

SAT 10.06. | 2:30pm

Treffpunkt: Forum Neues Frankfurt, Hadrianstraße 5, 60439 FFM - anschließend Performance im mayhaus sitespecific

SAT 10.06. | 4:30pm

Treffpunkt: Forum Neues Frankfurt, Hadrianstraße 5, 60439 FFM - anschließend Performance im mayhaus sitespecific

SUN 11.06. | 1:30pm

Treffpunkt: Forum Neues Frankfurt, Hadrianstraße 5, 60439 FFM - anschließend Performance im mayhaus sitespecific

SUN 11.06. | 3:30pm

Treffpunkt: Forum Neues Frankfurt, Hadrianstraße 5, 60439 FFM - anschließend Performance im mayhaus sitespecific

SUN 11.06. | 5:30pm

Treffpunkt: Forum Neues Frankfurt, Hadrianstraße 5, 60439 FFM - anschließend Performance im mayhaus sitespecific