GAGA FOR DANCERS | TANZFESTIVAL RHEIN-MAIN

Gaga is more than a dance technique. Gaga invites professional dancers to discover new approaches to the body, its movement possibilities, its endurance and flexibility.
workshop
WED 09.11.2022
12:00pm — 1:30pm
Künstler*innenhaus Mousonturm
Workshop for dance professionals and dance students Duration: 1.5h Admission: € 10 In English
Ticket needed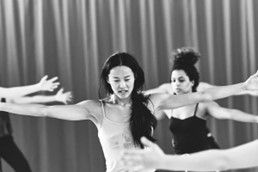 The workshop offers a unique opportunity to meet choreographer and dancer Chen-Wei Lee, who will present her new piece Burnt as part of the festival. As a certified trainer, Chen-Wei Lee leads a two-hour Gaga class, a movement practice that strongly shapes Chen-Wei Lee's own dance work, among other influences. From 2010 to 2015, she was a member of the Batsheva Dance Company and danced in pieces by Ohad Naharin, who also developed Gaga. Gaga combines imagination and physical sensations, empowering dancers with flexibility, stamina and agility by guiding them through joyful multi-sensory experiences.