FOR THE VISITOR(S)
Do Organs Dream of Electronic Lights
site-specific performance
SAT 01.10.2022
5:00pm — 10:00pm
Premiere
KunstKulturKirche - Allerheiligen
30 September 20:30 - 21:30 OPENING CONCERT: MATTER OF FACTS STUDIO - DO ORGANS DREAM OF ELECTRONIC LIGHTS? Opening and closing concert of the light/sound installation "For the Visitor(s)". The source and sound material for the two concerts are the technical devices of the installation itself - and thus also their necessary energy requirements and power consumption. With the help of special microphones, along the microchips and conductors, the electromagnetic fields that the installation inevitably generates are picked up. Audible and inaudible - beyond human hearing - frequencies were recorded. The concerts collect this sound material, test and condense the acoustic-visual interplay, search for reflections in space, devote themselves to the temporality of reverberation and establish connections to the rhythms of the light installation. Participants Gregor Glogowski and Lukas Nowok (Sound) Benjamin Hoesch (Light) Friedrich Hartung (Objects) Admission: free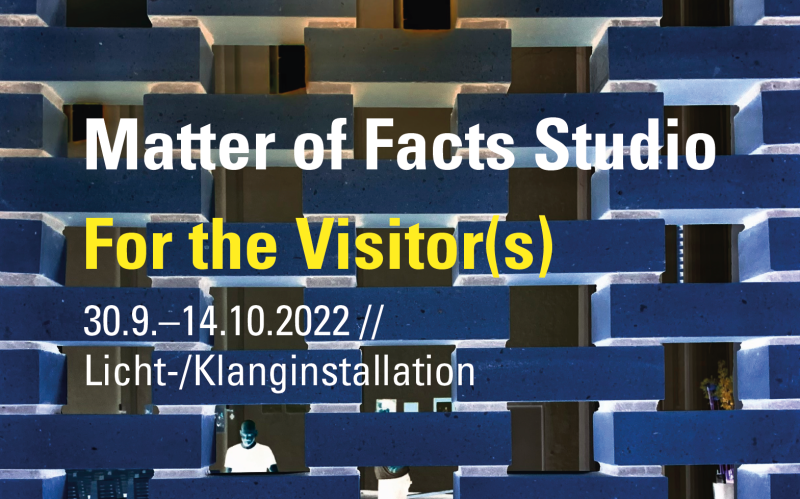 Das Bild zeigt eine Ziegelsteinmauer durch deren Lücken man Menschen in einem Kirchenraum sehen kann. Die Farben des Bildes sind blau, weiß und grau.
The light/sound installation places the KunstKulturKirche Allerheiligen at the centre of attention as an echo chamber. Every sound is repeated, reflected and refracted into the seemingly endless by the architecture of the space. The space inescapably inscribes its own sound on every music. Every sound, no matter how short, already entails a cascade of reverberation tails. This intricate interplay of reflection(s) is what "For the Visitor(s)" aims to make visible. In an assembly of strange apparatuses - consisting of tweeters, reflectors and light sources - the sacred space of the KunstKulturKirche Allerheiligen is concretely questioned as a space of refractions and repetitions, of reflections and images. "For the Visitor(s)" is an acoustic and visual survey of space, a broadcasting station of electroacoustic signals, a meditative focus on the autonomy of resonances and a celebration of reflection(s).
Concept and implementation: Gregor Glogowski, Friedrich Hartung, Benjamin Hoesch and Lukas Nowok
Gefördert vom Fonds Darstellende Künste aus Mitteln der Beauftragten der Bundesregierung für Kultur und Medien im Rahmen von NEUSTART KULTUR, von der EKHN - Stiftung und dem Kulturamt der Stadt Frankfurt am Main.
Further dates:
FRI 30.09. | 8:30pm

KunstKulturKirche - Allerheiligen

FRI 14.10. | 8:30pm

KunstKulturKirche - Allerheiligen