DRAGONS | TANZFESTIVAL RHEIN-MAIN

She has long been seen as the enfant terrible of the dance and performance scene, was involved with shamanistic practices, studied dance in Seoul and New York and was good friends with Pina Bausch. The Korean choreographer extraordinaire Eun-Me Ahn transforms the stage into a fantastical world in Dragons.
Dance/performance
SUN 13.11.2022
7:30pm — 8:40pm
Staatstheater Darmstadt - Großes Haus
Ticket needed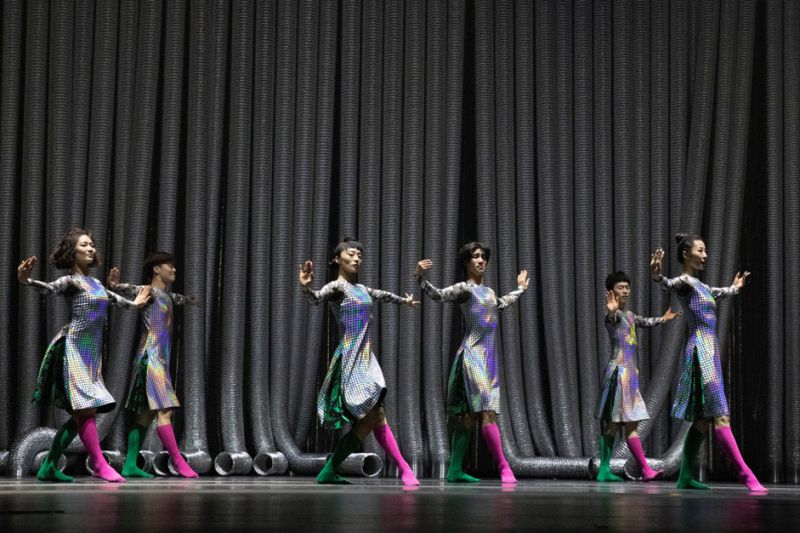 All 14 dancers – six of whom are present as flickering holograms – were born in 2000, the year of the dragon. Eun-Me Ahn shows the dragon as an ambivalent creature, in its East Asian significance as commanding and touching. This dragon drifts through the space as silver tubing. It comes as the symbol of transformation and continual change. Just right for the generation of Millennials, born into a globalized digital world that never stands still.
And these 14 dancers dance, dance and dance, mixing traditional forms, acrobatics and contemporary dance, sparkling with energy and beauty – like dragons wanting a good future together.
Choreography, artistic direction: Eun-Me Ahn
Music: Young-Gyu Jang
Costumes, set: Eun-Me Ahn
Lighting design: Jinyoung Jang
Video: Taeseok Lee
Motion design: Taeseok Lee, Minjeong Lee (Addnine)
Technical direction (development): Jimyung Kim
Performance on stage: Eun-Me Ahn, Daeun Jeong, Hyekyoung Kim, Jaeeun KIM, Sooeon Choi, Jaeyun Lee, Yongsik Moon
Performance on screen: Nur Syahidah Binti Hazmi, Akari Takahashi, Jiwan Jung, Siko Setyanto, Dwi Nusa Aji Winarno, Guan Ting Zhou
A production by the Eun-Me Ahn Company and Gadja Productions. In co-production with the Yeongdeungpo Cultural Foundation, Busan Cultural Center, Théâtre de la Ville Paris, Biennale de la Danse de Lyon, Festspielhaus St. Pölten, Les Théâtres de la Ville de Luxembourg, Les Halles de Schaerbeek, National Kaohsiung Center for the Arts – Weiwuying. Supported by ARKO International Arts Exchange Program.