DANCES FOR A NEW ERA

Since 2003, the dance department of the HfMDK has been presenting appealing and challenging programmes every year at the Mousonturm and is now, for the third time, attracting dance enthusiasts to the Frankfurt LAB who are ready to be infected by the young dancers' irrepressible love of movement and joy of experimentation.
Dance
FRI 20.05.2022
7:30pm — 9:30pm
Premiere
Frankfurt LAB
dances for a new era Re-connecting | Moving Potentials | Togetherness provides insights into very different choreographic approaches, working methods, handwritings. New choreographies by Simon Mayer and Anton Valdbauer (alumnus of the dance department), who are developing artistic projects with BAtanz students for the first time, a new piece by Sade Mamedova (alumna of the dance department), two short choreographies by Dieter Heitkamp, as well as excerpts from Exhausting Space by Ivan Perez and Revisiting Concepts and Material from NNNN by William Forsythe by Cyril Baldy can be experienced.
Ticket needed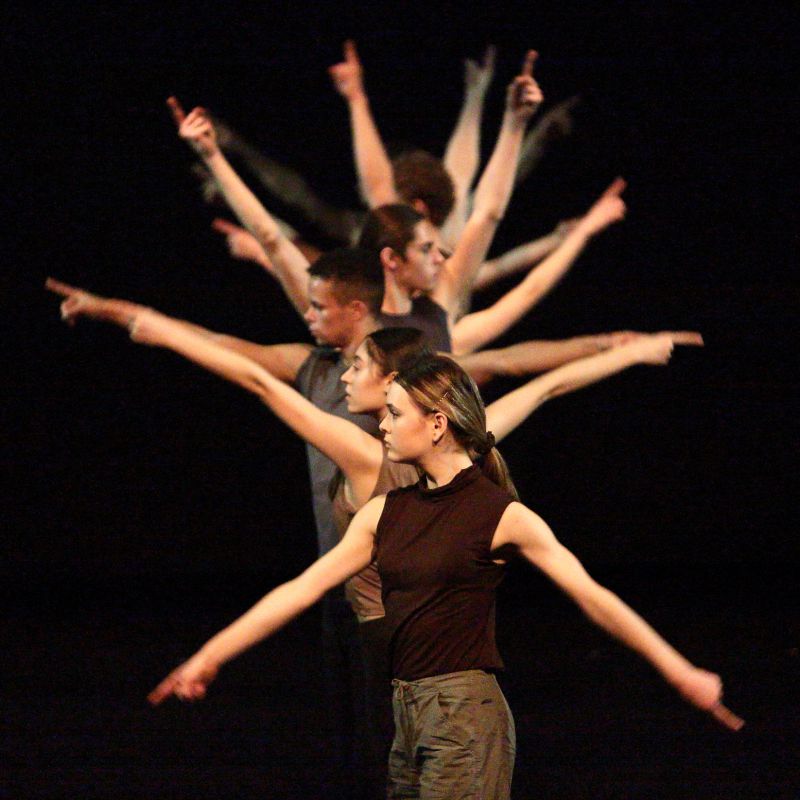 A group of people standing behind each other in front of a dark background, pointing their arms and fingers into different directions
An event with students of the BAtanz programme at the Hochschule für Musik und Darstellende Kunst with the support of the Hessian Theatre Academy and the Tanzplattform Rhein-Main at the Frankfurt LAB.
Hessian Theatre Academy, Tanzplattform Rhein-Main
Further dates:
SAT 21.05. | 7:30pm

Frankfurt LAB

SUN 22.05. | 7:30pm

Frankfurt LAB