PROFITRAINING TANZPLATTFORM RHEIN-MAIN
with Britta Schönbrunn
The professional training of the Tanzplattform Rhein-Main is aimed at professional dance practitioners (dancers, choreographers, dance teachers and dance students). As an open class with weekly changing local and international instructors, the professional training offers a broad and varied spectrum of contemporary dance techniques as well as ballet for contemporary dancers.
Dance
MON 14.02.2022
10:00am — 11:30am
Künstlerhaus Mousonturm - Probebühne 3
The training room can be used from 9:30 for registration and an independent warm-up. The training starts punctually at 10 am. For students the participation is free of charge. Day ticket: 6 Euro 10er Karte: 35 Euro
Registration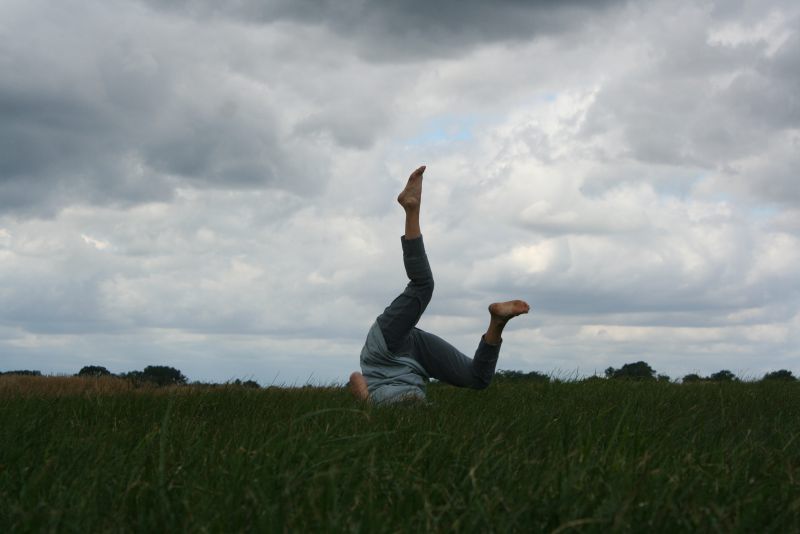 [Image description: Britta Schönbrunn lies on her back in a meadow with tall grass and stretches her legs upwards]
The training focuses on stimulating and subtle tuning of the perceptual channels and thus aims at a readiness and alertness combined with the strength and flexibility of our musculoskeletal system (skeleton/fascia/muscles). Following somatic/contemporary dance techniques (release/contact improvisation/principles of yoga), we move between the actions of feeling/visualizing/exploring that connect with the inner resources and impulses of the moment and interact with the external environment through an active/receptive body.
With curiosity and joy of playing, we engage with the forces of gravity, listen to the changing energies, develop a feeling for different qualities of movement and touch our limits while making decisions in the design of the spatial composition. The expansion of perception and kinesthetic consciousness opens up new dimensions in the movement potential of the body.
Photo credit: Atelier ARTenWEISE
Further dates:
TUE 15.02. | 10:00am

Künstlerhaus Mousonturm - Probebühne 3

WED 16.02. | 10:00am

Künstlerhaus Mousonturm - Probebühne 3

THU 17.02. | 10:00am

Künstlerhaus Mousonturm - Probebühne 3

FRI 18.02. | 10:00am

Künstlerhaus Mousonturm - Probebühne 3