BEAT 'I JUST WISH TO FEEL YOU' | TANZFESTIVAL RHEIN-MAIN

What happens when the beat that drives us, connects us and makes everything move disappears?
Dance/performance
WED 09.11.2022
9:00pm — 10:00pm
Hessisches Staatstheater Wiesbaden - Wartburg
German premiere | Meet the Artists after the show on Wednesday, 9.11.
Ticket needed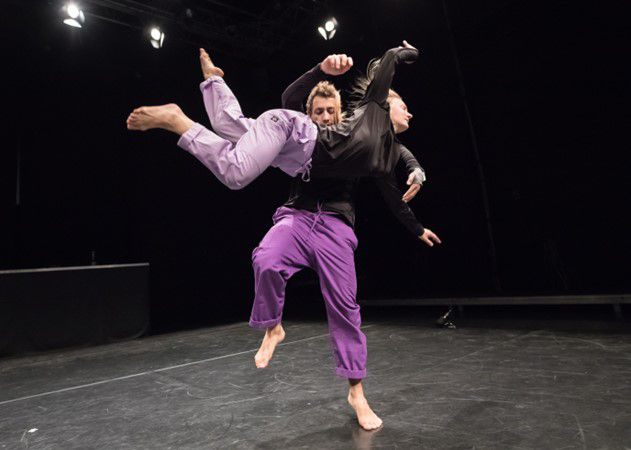 Life is created by energy waves. These vibrations create a rhythm that makes our hearts beat. We all have a pulse and our movements, our touches connect us. But what happens when the beat, the pulse of life, disappears? In their piece BEAT I just wish to feel you, dancers Jenna Jalonen and Jonas Garrido Verwerft let their bodies become one in pulsating proximity. Together they decipher new forms of movement between active and passive, strength and weakness, power and vulnerability - between the living and the dead body. The sound artist Adrian Newgent composes soundscapes live on stage that are in constant dialogue with the two dancers. The result is a physically intense and touching duet about human relationships.
Concept, direction: Jeanna Jalonen Development, performance: Jenna Jalonen, Jonas Garrido Verwerft Composition, live music: Adrian Newgent Lighting design: Miklós Mervel Production assistance: Péter Juhász Production: Collective Dope, SUB.LAB Event Productions
A production of Collective Dope, SUB.LAB Event Productions, in co-production with Straatrijk, Workshop Foundation. Supported by STUK House for Dance, Image & Sound, Life Long Burning, Ultima Vez, Stad Leuven, SÍN Arts Centre, Eva Duda Dance Company / Movein Studio, Cirk la Putyika / Jatka78, EMMI, Trafo House of Contemporary Arts. The production was part of the official selection of Aerowaves twenty20 Spring Forward, supported by the European Union Culture Programme, awarded the Rudolf Laban Prize of the Best Contemporary Dance Performance (2019).