ALTER SCHüTZT VOR TANZEN NICHT | TANZFESTIVAL RHEIN-MAIN

Choreographer Petra Lehr invites you to discover age and physical change as sources of inspiration for dance and movement. No dance experience necessary.
workshop
SAT 29.10.2022
11:00am — 4:00pm
Künstler*innenhaus Mousonturm
For people 60+ The workshop takes place over 2 days. Also suitable for people without dance experience. Duration: 4h each Admission: € 90 In German language
Ticket needed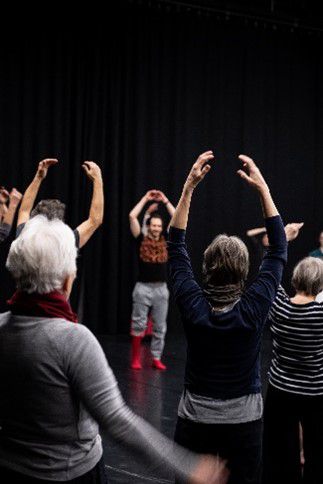 Petra Lehr has been working with great enthusiasm as a choreographer and dancer for over 40 years. Age and physical changes are not an obstacle for her, but a source of inspiration. Contemporary dance in particular, with its different approaches, is ideal for tapping into different movement abilities. In a two-day workshop exclusively for people aged 60 and over with and without dance experience, Petra Lehr introduces the basics of contemporary dance. After a relaxed warm-up that strengthens and mobilises the body, elements such as dynamics, rhythm and contact are explored and one's own movement possibilities are expanded.